Continent's culture on display at Orlando Stadium
It's been almost a year since I started writing the Football Africa blog. In that time I've written about governments, charities, protest movements and more rags-to-riches stories than a shelf of fairy tales can hold. And that's before getting to football.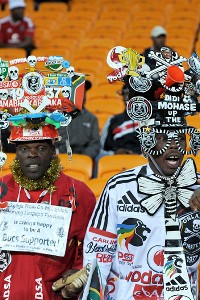 Gallo Images/Getty ImagesOrlando Pirates supporters -- an expressive group as shown by these two at an April match -- let the team know they were unhapy with Saturday's Champions League draw against Leopards.
I've long been concerned with the sheltered experience my countrymen -- South African football players and fans -- have of the game. Most of the time, we experience it in a very Western way. The troubles of sub-standard hotels, pitches more dirt than grass and fan riots are something we watch rather than live through and we're often removed from the continental game.

One of our opportunities to immerse ourselves in it comes through the CAF Champions League. This year, Soweto giants Orlando Pirates are competing in the main draw in Group A against Egyptian teams Al-Ahly and Zamalek and the Cinderella side AC Leopards from the Congo.

Pirates got their campaign off to a mediocre start -- a goalless draw against Leopards at home Saturday -- especially when compared with Angola's Recreativo, who beat Tunisian heavyweights Espernance 1-0 Sunday in their first-ever match of the competition. The Pirates game did not provide much to report on except the experience, which was magically real and entirely African.

Leopards are a physically imposing side with an impressive midfield and a good goalkeeper in Lawrence Ngome -- who they have to thank for keeping them in the match -- but did not look half as interested in winning as Pirates. They've made it this far in the competition with big results at home and can be expected to turn it on in Brazzaville, where the reverse fixture is Sept. 14.

Leopards were also obviously out of their comfort zone in the cold. All of them wore gloves and long-sleeved shirts while most Pirates went bare-armed despite the chilly temperature. Those on the bench covered themselves with a leopard-print blanket.

As much as I was interested to see how they play, I also wanted to see how they would be received at Johannesburg's Orlando Stadium, given current South African attitudes to foreigners, especially from the continent. Xenophobia has been one of the most embarrassing traits of our recent past.

To the right of the goal Pirates guarded in the second half, 300 or so Congolese made themselves comfortable, armed with their country's flag. They enjoyed what looked like light-hearted advances from the Pirates' fans before and during the match and were welcomed with a fair amount of hospitality, which was reassuring. They were made to feel even more at home when, as Pirates lined up to salute fans with the traditional crossbow, the Leopards made their way to greet the visiting support.

That was a precursor to what we would see all evening in a cagey but entertaining encounter. The first half was a tight midfield contest between a Pirates side whose lack of game time was obvious and a strong Leopards lot, who hit the crossbar once. Pirates gained some urgency in the second period and had plenty of opportunities as lethargy caught up to Leopards.

A goal-line clearance was the closest Pirates came to scoring. Whenever they got into the box, they had the ball wrestled for them, and fans became more annoyed. Calls for substitutes were replaced by clicks of the tongue and emphatic hand gestures. If Pirates coach Roger De Sa or his players wanted any indication of if they were doing a decent enough job, they only needed to listen to the stands for a clue.

Orlando Stadium is well organised for supporters. The various branches of the Pirates' fan club all have their designated spots where they settle in to sing songs. They are friendly, accepting and warm and even if you do not like them, they make you feel comfortable.

Like any fans, they demand excellence from their players and quickly got irritable with a sub-standard showing. But the real magic of the game came from the poetry of the opposition.

As the final whistle loomed, soft singing came from the far corner where the Leopards' fans were. Small in number, they made beautiful noise. It did not compete with the Pirates' drum but it was delicately defiant.

It lasted until the end, when the Leopards players went to blow kisses to their supporters. Guessing that most of them are immigrants who reside in South Africa, it made me wonder how long those people had waited to see a team from their country in action and how much watching them made them want to go home. And it made me appreciate the intricacies of African football all the more.

Tickets cost 40 rand at Computicket. Parking was more expensive with some charging 50 rand.