NFF's swift justice -- has anyone noticed?
The two results which cost at least 60 Nigerian players and a clutch of officials their careers -- 79-0 and 67-0 -- should cause a fracas. In official ways, they have. The Nigerian Football Federation responded quickly, suspending the clubs immediately, investigating quickly and issuing the harshest punishment.

- Life bans in Nigerian fixing scandal
- Teams suspended after huge scores

The footballers will never take the field in official capacity again and the four clubs concerned have received a 10-year ban from league action. Those sanctions are severe enough to attract reams of comment, but the African media have only paid a small amount of attention to this case.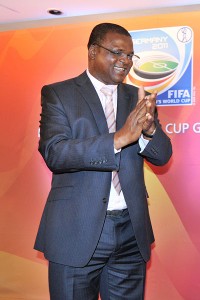 Segun Segun Ogunfeyitimi/Getty ImagesNigerian Football Federation organising committee chairman Chief Mike Umeh has promised to conduct a full investigation into the match-fixing scandal.
Newspapers from Zimbabwe's Herald to Egypt's Al-Ahram used agency copy of the findings, with little else mentioned on the subject. It could be that the margins were so outrageous that these two matches are being regarded in the same way a man with an oversized nose and bulging eyes is: a spectacle to look at but the less said about it, the better. Or perhaps because they were third-division sides, their profile is so low that they don't even merit much column space.

One strong sentiment was voiced by former Nigerian coach Christian Chukwe who called the bands "deserved," and the players an "embarrassment." He praised the NFF for dealing their strongest hand and providing a deterrent to others who are considering the same thing.

"It was important to show that was an unacceptable act," he said. "The people involved in that scandalous score lines simply wanted to kill Nigeria's football and the world needs to know that our football is not like that. The NFF responded swiftly and did not hesitate in taking a decision; a decision that I feel is in the best interest of our football."

More critical analysis could be found on fan forums such as the one on Nairaland.com. Some fans responded with outrage, suggesting the players should also be imprisoned and be made to do hard labour, while others offered something a little more thoughtful, such as the person who pointed out that most of the players were amateurs and quite young and that they were probably only following instructions from coaches.

The two matches were not televised so the exact actions will only be known to a few, but a subsequent eye-witness report revealed people at both grounds were on the phone to officials so they could confer notes. Another person on the scene narrated what sounded like a comedy sketch of players trying, and succeeding handsomely, at scoring goals against defences which were left wide open. You don't need a person on the scene to tell you that but it does not answer the big questions either.

If the fix was simply that Plateau United Feeders were supposed to qualify above Police Machine -- who they were on equal points with before the promotion play-off, why couldn't they have won 6-0 and their opposition 5-0? Why were the margins so enormous?

That the second half was laden with goals may explain something. Perhaps every time word got to Plateau that Police Machine had scored, they felt the heat creeping up on them and had to ensure they netted too. Perhaps every time Akurba FC, who were playing Plateau, heard that Police Machine had scored, they made sure they let Plateau in a few more times.

In total, Plateau scored 72 goals in the second period while Police Machine found the back of the net 61 times. Four of those came in a single minute. Both Akurba and Bubayaro, who were Police Machine's opposition, must have been in on it and for that, they've paid the ultimate price.

The NFF's swift justice may mean the rest of the details, apart from players named and photographs which they have promised to publish soon, may never be known and that it also a cause for concern. Considering it took Zimbabwe the better part of a year to untangle the Asiagate scandal -- even though that involved international teams and players -- is an indication that thorough investigations are needed.

If, in fact, the players were nothing but victims in a game and officials and administrators who should have been looking out for their well-being are the real masterminds behind it, they will be the ones to suffer the most from a story the rest of the world will soon forget.