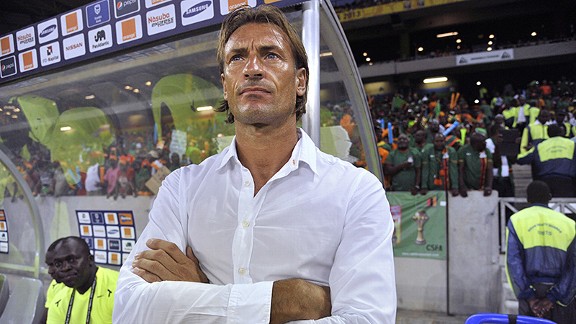 Getty ImagesZambian national team head coach Herve Renard will see his side square off against nemesis Zimbabwe in the COSAFA Cup final.
Southern Africa will be abuzz with footballing activity this weekend with the COSAFA Cup final and the opening matches of the CAF Champions League all being played at the bottom of the continent. All three fixtures promise to be eye-catching. Here's what you can look forward over the next two days:

Zambia v Zimbabwe

The hosts, Zambia, are favourites to add a fourth COSAFA Cup title to their names after beating the team considered their toughest opponents, South Africa, in the semifinals. However, they needed a penalty shootout after a hard-fought, tense encounter in which Bafana Bafana hit the post twice and will want an improved performance from their strikers, Festus Mbewe and Bornwell Mwape.

They will not be short on motivation. Already, coach Herve Renard has spoken about settling old scores. Zambia lost both the previous COSAFA Cup final and the 2005 one to Zimbabwe and Renaud made no secret of his desire for payback. "I like it when there is a revenge case," he said after Zambia's win over South Africa. Renard would not been drawn on whether he would wear his lucky white shirt -- which was absent against Mozambique but made an appearance for the semifinal -- saying he decision on whether to don it or not is based "on a feeling."

Zimbabwe do not have such mystical tactics on their mind. After their sloppy defence held out against Lesotho, they have been working on ways to close up for the final. They are the only other team to have lifted the trophy three times, and although their football has suffered in the aftermath of the Asiagate scandal, winning this competition will go a long way to restoring confidence and will prove a fitting goodbye gift for their German coach Klaus-Dieter Pagels.

Orlando Pirates v AC Leopards

Later on Saturday, the group stage of the CAF Champions League kicks off in Soweto. South Africa's Orlando Pirates host Congo's AC Leopards in what is expected to be a tough test of the character of both sides.

Pirates exited this competition last year largely because of fatigue as they struggled to balance league and cup ambitions at home with their desire in the continental championships. Their depth was exposed as lacking, and their over-reliance on the same senior personnel -- like captain Lucky Lekgwati -- was obvious.

This time around, they could face a similar issue especially because they have not beefed up significantly over the offseason. Many of the players have had scant rest, having to return to training earlier than planned in order to prepare for this campaign. They also run the risk of complacency against first-timers Leopards, who have already surprised Algerian and Nigerian opposition.

Although just a "village team" -- as one television commentator described them -- three years ago Leopards benefitted from a major investment which has enhanced their promise. They won the Confederation Cup last year and have impressed against higher-profile opposition so far and will want to continue their remarkable rise so far.

Recreativo v Esperance

Another team appears for the first time in the Champions League on Sunday. Angola's Recreativo are one of four newcomers to the big stage, against seasoned performers Esperance at home.

Recreativo have the advantage of recent game time. Their league is still in progress while Tunisia's is on a break, but the Angolan side's form has not been spectacular. After 17 matches in the competition, they are in eighth position. They are also under a new coach, Miller Gomes, who is in the process of stamping his style on the team.

Esperance welcome back one of their best players, midfielder Oussama Darragi, who has returned to the club after a stint in Switzerland. Their defence has been boosted with Iheb Mbarki and Seifeddine Akermi also joining the outfit.