What South Africa can learn from COSAFA Cup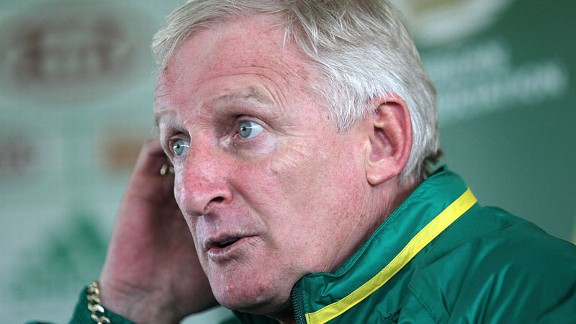 APGordon Igesund has failed to meet any of his mandates.
South Africa did the expected and qualified for the semi-finals of the COSAFA Cup but their real test will take place in Ndola on Wednesday. A clash against the hosts Zambia, who were African champions as recently as 18 months ago, is being talked up as worthy of the final. The winner will take on one of Zimbabwe or Lesotho, and with all due respect to the other southern African countries, Bafana Bafana will be favourites to beat them.

If it's South Africa who get there, it will go a long way to showing off the country's depth of talent, which remains an area of concern, because the team does not feature their first-team regulars. The South Africa you will see at this COSAFA Cup are not the same outfit you will see in action in World Cup qualifiers or even high profile friendlies. Theirs is a third-choice side, selected from the leftovers available to team management.

On the face of it, it's a typical club-v-country dispute, but there is actually a little more to it this time. The COSAFA Cup is not a FIFA-recognised event and as such, clubs are under no obligation to release their players to participate in it. Pre-season training and matches are taking place around the world and South Africa's PSL is no different. Many teams refused to let their players go on national duty and coach Gordon Igesund said he understood. He took what they gave him and decided to try and make it work.

They had limited time together before their quarter-final against Namibia - just two days - so Igesund decided he would not try to coach any specific style into them. Afraid of confusing them, Igesund simply wanted them to keep shape and asked them to show the requisite commitment to representing their country.

There was some lack of cohesion, as there would be among a group who have not played together before. It translated, as it so often does, into a relative lack of goals. They scored two goals, none in the first half, although they should have netted at least four times.

Igesund was happy with the rhythm he saw develop as the match went on and particularly pleased with the way the bench strength announced themselves. He singled out Thulani Hlatshwayo at right-back as having a "good football brain" and not giving the ball away easily and midfielder Ruzaigh Gamildien for playing "with that arrogance that says 'I know I am a good player'."

That is actually what this tournament is about for South Africa - to give Igesund a first-hand look at the talent he does not otherwise see. He admitted that he didn't even recognise some of the squad when they assembled, although he offered a sheepish reason.

Igesund claimed they looked different when they are running around on the park compared to when you see them in their tracksuits. It was not the cleverest way of making his point but he made it nonetheless: any coach needs to get to know the system he operates in properly and an outing like the COSAFA Cup can go a long way to giving him that.

As much as the tournament is a learning experience and is taking place under the radar, there is still some pressure on South Africa to win because it will ensure they hold some stature in their own region. To that end, Igesund is delighted that defender Bevan Fransman, who was held back by SuperSport United to play in their friendly against Manchester City, will be available for the semi-final.

But he is equally concerned with unearthing some talent who can go on to play regularly for the national side. He may find them at this tournament, or simply get a few pointers. Either one, will speak to the real depth of South Africa's talent pool.

Igesund believes it's greater than some think. He said there are "probably still another 40 players that did not get the chance because I wasn't able to pick them". If his mathematics are correct, the future of South African football would be far healthier than it sometimes looks.