Nigeria exit Confed Cup amid praise and hope
Dignity in defeat will be small consolation for Nigeria as they exited the Confederations Cup before its business end, but Stephen Keshi had some reason to be proud as the Super Eagles flew home. They did not make it through to the final four, but they went some way to achieving their other aim of showcasing African football as competitive and skilled. More's the pity the scoreline of the 3-0 defeat to Spain did not reflect that.

Nigeria could have scored, at least as many times as Spain did in their final match, but the finishing touch eluded them yet again. The Super Eagles have been firing blanks in the weeks leading up to the tournament (with a narrow victory against Kenya and a draw against Malawi in World Cup qualifiers) and in this competition, despite their 6-1 win over Tahiti, Nigeria could have struck more often.

- Bennett: Brave Nigeria bow out
- Spain unbeaten run sets new record

Without key players like Emmanuel Emenike, maybe it was too much to expect Nigeria to form a cohesive attacking unit but they showed they could do that at every step except for the final touch. Ahmed Musa found Brown Ideye, who could not score despite finding himself in front of an open goal. Sunday Mba had a shot saved. Ideye went wide later on.

Still, there were times when it seemed as though Nigeria's pace and intent would overwhelm Spain. The world champions may simply have been in go-slow mode because of the heat and the prospect of two more games in similar conditions, but their relative lethargy only emphasised Nigeria's obvious energy.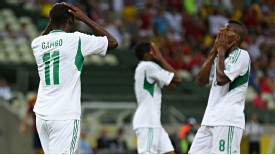 GettyImagesNigeria players rue one of many missed chances against Spain
Keshi's team controlled passages of play and did not allow Spain to run away with the ball as they did against Uruguay. Nigeria had more possession than the South Americans did when they took on Spain and that will be the cause of some regret because it is Uruguay and not Nigeria, who will continue to compete in Brazil this week.

Nigeria impressed the cheering locals, the international media and the opposition manager. Vicente del Bosque praised Nigeria as "excellent."

All the compliments in the world will not take away from the disappointment of their first-round exit, but at least the Confederations Cup performances have given Nigerians and Keshi confidence they have enough to work with to guarantee a return to Brazil next year for the World Cup and hope they can put on a strong showing when they get there.

Godfrey Oboabona and Kenneth Omeruo have only 41 years between them but impressed as a defensive pairing. Ahmed Musa has won many admirers. Nigeria's young players promise a thriving future, but better news is that some of their experience will be back to bolster the ranks soon.

Emenike is close to returning to full fitness after sustaining a knee injury and targeting September's World Cup qualifier against Malawi for his international return. Ogenyi Onazi, the midfielder who missed the Confederations Cup with a niggle he picked up on the eve of the event, should also be available then.

Both will be welcome inclusions for the must-win match against Malawi, which will ensure a place in the final round of World Cup qualification. Then they still have to beat whichever team they are drawn against in the two-legged playoffs. If they apply what they have learned at the Confederations Cup, Nigeria could be formidable on the continent and a force to reckon with in years to come.

Do not be confused: The Big Boss would not have been happy with the final outcome and he would not want this as a reward. Africans are used to being treated as second-best and know that different standards apply to them than to the rest of the world. They are used to being expected to accept less as good enough, and that's why Keshi is correct when he refuses to accept this as Nigeria's best.

It was not. It was a start. If Nigeria can successfully build on it, then they, and the rest of Africa, will have something to celebrate when their best is really on display.