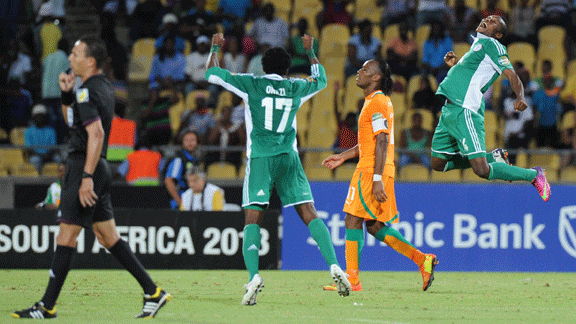 GettyImagesNigeria pulled off a shock win against Ivory Coast that set up their African Nations Cup triumph
Stephen Keshi, Vincent Enyeama and John Obi Mikel have all expressed their belief that Nigeria can pull off an upset against Spain to keep their Confederations Cup campaign alive. To do that, they will have to break the world champions' 24-game undefeated streak that has extended from November 2011 and overcome European opposition for the first time since 2009.

Impossible? Maybe.

But Nigeria have pulled off some stunning upsets in the past, most notably their 2-0 win over Greece at the 1994 World Cup that left them with a real chance to make it through to the next round. Defeat to Italy ended their run on that occasion, but since then they've had some important wins to which they can refer as motivation for the test against Spain.

Football Africa takes a look at some of their most surprising victories of the past decade as the Super Eagles go in search of history.

Tunisia (5) 1-1 (6) Nigeria, ANC quarterfinal, Port Said, 2006
Nigeria dealt with then-continental champions Tunisia in a fine show of big-match temperament in the African Nations Cup seven years ago. Nigeria looked the team to beat through the group stage as they went through with wins over Ghana, Zimbabwe and Senegal, while holders Tunisia lost heavily in one of the group matches, 3-0 to Guinea.

After six minutes of play in the quarterfinal, Nigeria had the lead but Tunisia equalised after halftime and there was no further action to report until the penalty shootout.

Joseph Yobo missed Nigeria's first while Tunisia took their first two successfully. Matters were level at 5-5 before goalkeeper Vincent Enyeama, Nigeria's current captain, performed heroics to ensure his team qualified for the semis. Nigeria were put out by Ivory Coast, but it did not erase their memorable evening in the last eight.

France 0-1 Nigeria, Friendly, Saint Etienne, June 2009
The first, and to this date, only meeting between these two teams resulted in a shocking win for Nigeria against a strong French side that included the likes of Franck Ribery, Patrick Vieira and Nicholas Anelka.

The only goal of the match came in the 32nd minute through Joseph Akpala, who was brought on as a substitute against Uruguay in the confederations Cup on Thursday but did not make much of an impact. Ike Uche's effort bounced off the post but Akpala was on hand to capitalise on the rebound and left France coach Raymond Domenech lamenting "one of the worst halves I have ever seen."

Enyeama had another match to remember as he saved efforts from both Anelka and Karim Benzema in the first half. Nigeria could even have doubled their lead and were clearly the more dominant team. If ever there was a match they could take inspiration from, this was it.

Nigeria 4-1 Argentina, Friendly, Abuja, June 2011
It was a second-string Argentinean side who took on Nigeria before the Copa America. They were without Lionel Messi, Carlos Tevez, Javier Mascherano and Sergio Aguero, but the margin of victory and the reputation of the team they beat was enough to have Nigeria gloating.

Uche opened the scoring after 10 minutes, Victor Obinna converted a penalty and Uche headed his second before halftime. Shortly after the resumption, Nigeria had a four-goal lead when Emmanuel Emenike, who is not part of their current squad because of injury, sent one over goalkeeper Adrian Gabbarini's head.

Argentina managed a consolation goal, but Nigeria's morale had been significantly boosted. However, it did not count for too much because they went on to draw an ANC qualifier with Ethiopia.

Nigeria 2-1 Ivory Coast, ANC quarterfinals, February 2013
This was the victory that paved the way for Nigeria's march to the title. Ivory Coast were favourites to win the tournament and buoyed by the knowledge that their golden generation was playing together for what many predicted was the last time.

The Elephants came through the group stage as leaders of their pool with two victories over Togo and Tunisia while Nigeria were joint pace-setters, having won just one match, against Ethiopia. After taking an early lead against Ivory Coast, Enyeama pulled off one of the saves of the tournament to deny Yaya Toure and Sunday Mba netted the winner 12 minutes from time.

Nigeria went on to beat a Malian team, who had their minds on the war in their home country, 4-1 in the semifinals and won the event with victory over unfancied Burkina Faso.