Nigeria on the brink of exit - what went wrong?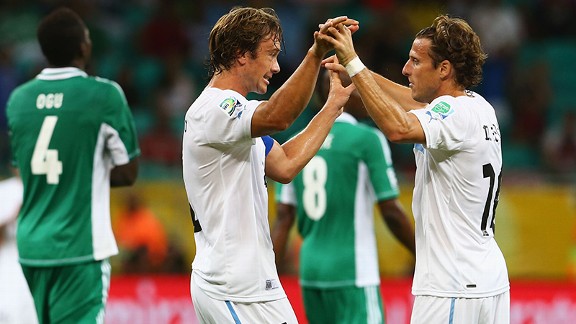 GettyImagesDiego Forlan's goal on his 100th cap for Uruguay effectively sounded the death knell for Nigeria's Confederations Cup hopes.
Barring a heist of Great Train Robbery proportions against Spain, Nigeria will be eliminated from the Confederations Cup at the end of this week. In all probability, they will have managed one victory -- in the fixture where defeat would have been unforgivable, against Tahiti -- before their exit.

A 2-1 defeat in the Super Eagles' must-win game against Uruguay means they will have to write off the tournament as a disappointment. But what really went wrong? And did Nigeria really let themselves and Africa down at a competition where they promised they would represent their roots with pride?

- Forlan celebrates his 100th cap in style

If you ask Stephen Keshi, it was all down to one moment: the instant Nigeria let Diego Forlan run freely down the left flank and caught goalkeeper Vincent Enyeama unawares. "It was one minute's lack of concentration that made the difference," he said.

So it goes in international sport. There is no let-up. To be on par with the best in the world, there can be no loss of focus. But these things happen. Individuals and sometimes whole teams make mistakes. Nigeria are not unusual in that regard.

They have not made a mistake that costly in 13 months, when they last lost a competitive match. For 19 fixtures, they have gone unbeaten - a streak that any team can be proud of. But they will rue that their mistake came when it really mattered, when they had managed to avoid any in the period beforehand.

Although many, including the country's sports minister, will argue that the Confederations Cup is not as important as ensuring qualification for the World Cup in Brazil, Keshi himself wanted the team to put on a good show. That was always going to be a tough ask with a depleted strike force and the loss of Ogenyi Onazi on the eve of the tournament.

All the talk about Nigeria's lack of attacking prowess was underlined against Tahiti. The 6-1 scoreline suggested there was little wrong with their ability to score goals, but the number of wasted chances told a different story. Ironically, the problems did not come in that department against Uruguay; it was in defence that Nigeria were lacking.

Uruguay's opener came after the South Americans had launched wave after wave of attack on Nigeria's backline after dominating the opening exchanges. They did not let Nigeria get out of their own half at first and when they eventually did, nervy set pieces saw them struggle to take control. It seemed a certainty Nigeria would be breached, and they were. Oddly, it also settled them.

John Obi Mikel was expected to play a key role, and his energy in midfield held the team together. His goal from 20 yards out made it clear Nigeria were not done. But they were. After being caught on the breakaway to hand Uruguay the honours, Nigeria need to do the almost-impossible and beat a Spanish side that could very well not even let them touch the ball, as they did for most of their encounter with Uruguay.

Post-tournament analysis will sympathise with Nigeria because of the personnel losses they suffered, but it may also question certain selections. Former captain Joseph Yobo has been out of favour since he was benched in the African Nations Cup, but Nigeria's most experienced player could have come in handy at this tournament.

On forums, fans complained about the strength of the bench. Nigeria substituted Brown Ideye and Nnamdi Oduamadi with Joseph Akpala and Michel Babatunde. The latter have six caps between them. Sunday Mba was also in action as a replacement but has failed to make the same impact he did at the Nations Cup.

Inexperience among the reserves is a problem that can only be solved by playing them more often, which puts Keshi in a tricky position when managing the team. The Nigerian side is young and fairly green when compared to their opponents at this competition, especially Uruguay, who have been described as "aging." They are building towards something, but Keshi will have to move quickly towards a finished article if they hope to appear in Brazil next year.

That will not be the main talking point when they head home. Instead, debate will rage about whether Nigeria were mentally in the right space to compete in this event. They arrived at the Confederations Cup later than planned because of a pay dispute, did not get the training time they wanted and had spent the two weeks before that fighting fatigue as they jetted from Texas to Nairobi, to Windhoek and then to Brazil.

That may be why Keshi was not overly harsh on his men and maintained that he was proud of their efforts, but he did advise them to be a "little bit more professional." That may actually be the reason Nigeria will not compete in the final four.