For a 20-year-old, Ahmed Musa already has enough accolades to be considered a veteran.

He was just 17 when he broke Nigeria's league record for the most number of goals in a season (18) for Kano Pillars. The next year he saved his Dutch club VVV-Venlo from relegation with a brace against Feyenoord, and as recently as two weeks ago, he netted for Nigeria against Kenya to keep them at the top of the 2014 World Cup qualifying group. All those achievements may pale against the backdrop of a goal against Uruguay in the Confederations Cup.

- Bennett: Second up for grabs for Super Eagles
- Tabarez: Nigeria match crucial

Thursday's match is effectively a quarterfinal, and Nigeria will have to improve significantly if they are to prevail. Although they ran riot against Tahiti, they also squandered chances aplenty, which put a question mark over their goal-scoring ability. If Nigeria hope to find the back of the net against Uruguay, Musa is one of the players who has to make an impact, and his record and temperament both suggest he can.

He is a feisty young man who, like so many from the continent, has had it tough and overcome adversity. He chose football as a career path because his parents could not afford to pay school fees for him and he was forced to drop out. These days, he has enough money to educate hundreds, if not thousands, of people, and given his age, he could well pocket much more in years to come.

That is largely the result of Musa's promise being picked up early and his talent allowed to shine on Nigeria's biggest stage. To emerge as the top scorer in the premier league was no small feat, especially as he overturned a record that stood for 20 years. As soon as he did it, his hope was that someone else would better it the next year. Jude Aneke did.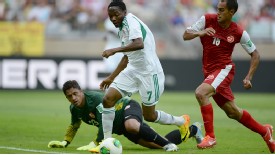 GettyImagesNigeria's forward Ahmed Musa drives past Tahiti goalkeeper Xavier Samin in the opener.
Musa did not mind in the least, because he had moved on to the Netherlands, where he described the dogfight to stay in the top flight as the "best moment of my career." It was there that the comparisons began. Musa was likened to one of his predecessors at the club, Tijani Babangida, because of his pace.

Being of petite build, speed, skill and shrewdness in responding to passes others would not spot all form the foundations of his game. They were on display at the 2011 Under-20 World Cup. His three goals in five matches included one Most Valuable Player award, and saw him make the shortlist for the Golden Ball. He is also a devout Muslim and participated in the tournament while observing the holy fasting month of Ramadan, a tough ask on sportsmen, even if they do not abstain from food and drink on match day.

His promise has been recognised at continental and European level, with clubs like Manchester United and Barcelona interested in acquiring his services. He chose CSKA Moscow, with whom he won both the league and the Russian Cup this season.

Nigerian media were harsh on him for missing chances in the deciding match of the former, but praised him excessively for his strike against Samuel Eto'o's Anzhi in the cup final. That is the fate of an immensely talented player who has early success: He is expected to do well all the time. When he shot wide against Tahiti, he was lambasted again for not showing more composure in front of goal.

With Anthony Ujah also appearing off-colour, there is a chance one of them will be benched in favour of Brown Ideye. It should not be Musa.

He has proved that pressure brings the best out of him and that he is mature enough to handle a challenge. He is unafraid, often running directly into the opposition to force them to make the wrong move. The responsibility of qualifying for the semifinals should not be heaped solely onto the shoulders of one man, but Musa's are broad enough to bear it.