Five through, the rest wait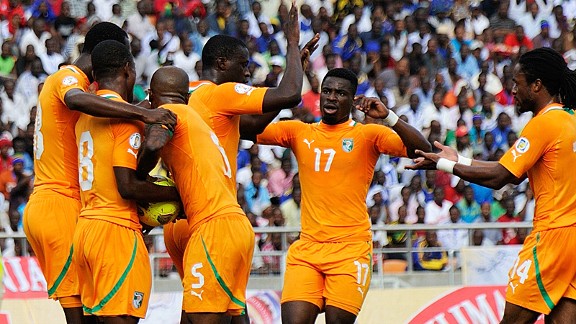 GettyImagesIvory Coast celebrate one of their four goals against Tanzania
World Cup candidates became much clearer in Africa this weekend as five of the groups were decided. The winners of those pools will go into the final round of qualification - ten, two-legged ties - and aggregate victory against one opponent will see them through to Brazil.

For the rest, September will be their reckoning. The match-ups are eye-catching with Zambia and Ghana to decide Group D in a straight shootout, Burkina Faso and Gabon to battle it out in the hope Niger can trip up Congo in Group E, Nigeria have to beat Malawi to advance from Group F, Libya and Cameroon go head to head in Group I and Senegal will hope to fight off Uganda in Group J.

Here's a look at those teams that have already confirmed their places and how they got there.

Group A: Ethiopia

Previous World Cup hosts South Africa saw their dreams of Brazil burn away when they lost 2-1 in Addis Ababa. Bafana Bafana's dramatic elimination came through an own goal from one of their star strikers. Bernard Parker's header was described by a prominent journalist as one of the best he had ever seen, except that it went the wrong way.

South Africa's challenge was made difficult at the very beginning of the campaign. Draws to Botswana and Ethiopia while still under Pitso Mosimane's command left them too much to do in the latter stages. Despite progress made in 2013, they will not make the journey to the World Cup.

Instead, it's the East African team who have been on the upward curve since their appearance at the African Nations' Cup in January who will progress to the final round of qualifying. They won four of their five matches, beating Botswana twice and the Central African Republic and South Africa once each. Saladin Said has been their top-scorer with four goals in the competition.

Ethiopia are one of three teams being investigated for fielding an ineligible player. The other two are Togo and Equatorial Guinea, but only Ethiopia's could impact the group. If they are found guilty of the offence, which allegedly took place during a match against Botswana, they will be docked three points and will have to win on the final weekend to keep South Africa in second place.

Neither Botswana nor the Central African Republic were real contenders but both won a match against the other, to give them something to build on.

Group B:Tunisia

Two draws in two weekends is not the way Tunisia would have wanted to qualify but now that they have, The Eagles of Carthage won't complain too much. They came from behind twice to level matters with Sierra Leone in Freetown and found themselves on the back foot again in Praia against Equatorial Guinea.

A penalty either way saw Tunisia gain the required point with Oussama Darragi converting. He has scored three of his country's goals in the campaign so far and will be one to look out for in the next round.

Of the qualified teams, Tunisia are the only one to have won just three of the five matches played. The convincing start in qualifiers with three wins from three matches became more difficult as the smaller teams in their group gained momentum.

Cape Verde, Sierra Leone and Equatorial Guinea all did not pose much of a challenge for the North Africans but all showed some improvement. Equatorial Guinea's 4-3 win over Cape Verde could well be remembered as match of the qualifiers.

Group C: Ivory Coast

Despite Morocco's 2-0 win over Gambia this weekend and Tanzania keeping pace throughout the qualifiers, Ivory Coast ensured they will not miss out on playing with the big boys as they secured top spot in this pool. In the last week, Yaya Toure, Lacina Traore and Wilfried Bony have found the back of the net in both matches to push the Mighty Elephants beyond reach.

Not only did they win four of the five matches but their goal differences is an impressive +10 after big wins over Gambia (3-0) and Tanzania (4-2). The latter result made all the difference as it was the one that made Ivory Coast the first team to progress to the final round.

Morocco's underachievement is not too surprising considering they have battled to match their reputation to their results. Tanzania, on the other hand, led the group at one stage and will target the 2015 Nations' Cup as an event to make an appearance at.

Group G: Egypt

Africa's most successful team kept their 100% record in the qualification phase and took another step to making their first appearance at a World Cup in 23 years when they beat Mozambique 1-0. Egypt have won all five of their matches to leave the rest of their group far behind.

That feat is particularly impressive when considering that the campaign began while their domestic league was still suspended. A lack of regular football for some of the country's players, made worse by their non-appearance at the last two African Nations' Cups, did little to deter their resolve to rise again.

One player has stood out ahead of the rest. 21-year-old Mohammed Salah, who was named the most promising talent in Africa at last year's CAF awards, scored four goals in two matches, including a hat-trick against Zimbabwe and will be one to watch should Egypt get to Brazil.

The other teams in the group had little hope of advancing but Guinea will be satisfied with their 6-0 drubbing of Mozambique, who failed to win a match. Like Zimbabwe, they are back to the drawing board.

Group H: Algeria

Another big-name North African side made it through, beating off a challenge from one of West Africa's giants. After Algeria beat Rwanda by a margin of only one goal (1-0) in Kigali, they had to wait to see if Mali could match up. Without Patrice Carteron, Mali are struggling and found themselves 2-1 down to Benin at half-time. They came back to draw level, but it was not enough to keep them in contention.

For Algeria, it's a satisfying end to a campaign that began strongly with 4-0 and 3-1 victories over Rwanda and Benin. Islam Slimani is the joint top-scorer of the qualifying campaign so far. He has netted five times to help provide an impressive goal difference cushion of +8.

Mali were always chasing in this group, having lost to Benin in the first match, although they will remember with some bitterness that they beat Algeria 2-1 in June last year. Benin's only victory was against Mali with Rwana failing to win a match and leaving the path clear for Algeria to aim for another World Cup appearance, where they will hope to do better than they did in 2010.