Nigeria finally on their way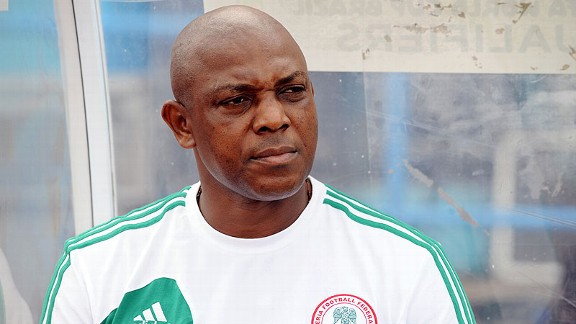 PIUS UTOMI EKPEI/AFP/Getty ImagesA boycott over player bonuses and a key injury have made Nigeria manager Stephen Keshi's Confederations Cup campaign much more difficult.
Nigeria have already battled jetlag twice in the last couple of weeks and won. After their trans-Atlantic journey for nothing more than a friendly match in late May, they drew with their higher ranked opponents, Mexico.

More impressive was that they returned to the continent to beat Kenya in a World Cup qualifier following a three-day, 22,000 kilometre journey back. But it all went downhill from there. A draw against Namibia put their World Cup ambitions on pause and pay disputes which erupted afterwards delayed their travel to Brazil for the Confederations Cup.

- Confed Cup Team Preview: Nigeria

As a result, Nigeria will arrive in the country on Sunday, a day before their opening match against Tahiti. If they triumph over travel this time, they will take impressive to levels of 34,000 feet.

It's not as though Nigeria will have much wriggle room if they struggle first up. Tahiti are the outright minnows of the competition. They only have one professional player in the squad, Marama Vahirua, who represented France at under-21 level but has not played a senior international match yet.

In the lead up to the tournament, they were frank about their chances with the president of the FA admitting "[We] know our limitations and know we face very hard opponents." What they have done so far is achieve an "impossible dream," and no one expects it to become any sweeter, but teams like them could easily unsettle an already troubled unit and that's exactly what Nigeria are.

Money is the main source of their problems. The national players demanded US $10,000 for their win over Kenya but they were refused by their cash-strapped board. They were offered US $2,500 after their draw against Namibia but wanted more. The latter is a particularly ridiculous demand given that Nigeria have not even secured a spot in the final round of World Cup qualification and want to be rewarded handsomely for abject mediocrity.

But player power still holds much sway and Nigeria proved as much when they threatened to go on strike on the eve of the Confederations Cup. Theirs was not as futile a gimmick. The players refused to leave their hotel rooms in Windhoek -- that in itself will tell you how serious they were because you would find few who want to be holed up in the southern African city for too long -- and missed their flights to Brazil.

On Saturday, after the sports minister's intervention led to a resolution, they departed. Two groups left the country to fly via South Africa to Sao Paulo. Missing from both flights was midfielder Ogenyi Onazi. He sustained a knee injury and has been ruled out of the tournament completely. He expects to be back on the park in a month's time -- too late for Nigeria.

One injury blow can be taken on the chin, but his withdrawal brings to four the number of players the Super Eagles have to do without. Emmanuel Emenike, Victor Moses and Kalu Uche all could not be considered for the squad because of various health concerns.

A depleted strike force and now a midfield lacking a commander are expected to affect Nigeria's goal-scoring ability but perhaps not against Tahiti. They lost a warm-up match to Chile's under-20 side 7-0 so if Nigeria cannot put a few past them, it will indicate even bigger cracks than are already visible.

This is Stephen Keshi's most important test because it takes place on a global stage. The Big Boss has had success on the continent but to translate that to a world event is his ultimate goal and if he fails, he knows his reputation will suffer. He has already shown signs of succumbing to the pressure. Against Kenya, he reportedly did not allow his players to drink the water provided by the hosts.

Such treatment will not be advised in Brazil, where Nigeria will have to find a way to unite as they promised they would, for the whole of Africa. First, they'll be desperate for a good night's sleep on a bed that doesn't form part of a long-haul flight before they take on Tahiti. Then they can consider how to recover properly as they plan to overturn Uruguay and Spain.