Super Eagles prepare for Brazil, sans the guarantee they wanted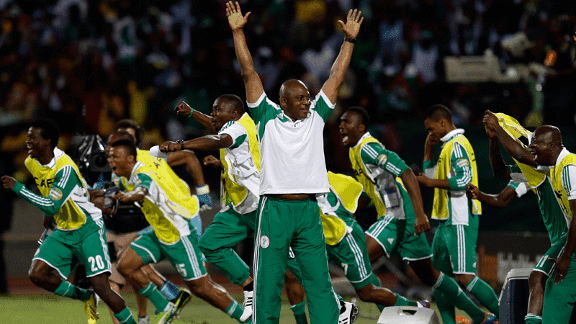 PA PhotosStephen Keshi led Nigeria to success in the African Nations' Cup
Nigeria could have headed to the Confederations Cup with the certainty they they had put themselves in the best position possible to make a return trip next June.

Victory over a Namibian side rocked by their new coach's surprise resignation in a World Cup qualifier would have assured Nigeria a spot in the final round but all they could manage on the eve of their departure was a 1-1 draw and a row over player bonuses which has reportedly disrupted the team's journey to the tournament.

It means Nigeria's group, F, will go down to the last weekend in September where they must beat minnow challengers Malawi to advance. The Southern African side has kept pace for the full duration of the campaign and remain just two points behind Nigeria. Few would fancy them to pull off a massive heist but Nigeria's form in the qualifiers has not been convincing so anything remains possible.

Of course, the Super Eagles have had other things on their mind this year. After winning the African Nations' Cup, they booked places in Brazil for the tournament of champions – the Confederations Cup – and have made it their mandate to represent the continent with pride.

That is, of course, if they get there. A row over bonuses has also threatened to derail Nigeria's campaign before it has even begun. The team went on strike on Thursday, refusing to leave their hotel in Namibia and missing a scheduled flight to Brazil ahead of the start of the tournament this weekend.

"They are declining to leave," Namibia Football Association general secretary Barry Rukoro told Reuters. "They are owed money by their association and want it sorted before they will leave..."

It should be sorted out in time and Stephen Keshi, their former national captain-turned-coach, and an Africanist of the hardest sort, will get to make a point on the global stage. He spent some of his time at ANC denouncing mediocre western coaches who get jobs on the continent ahead of proven locals simply because perception dictates the foreign influence will be worth more than a homegrown one.

When Keshi led Nigeria to continental glory, he saw it as a victory for domestic managers and players amongst all the other things it represented because he did it with a squad that included a significant number of Nigerian-based players like Sunday Mba ahead of internationally established big names like Peter Odemwingie. Now, he wants a similarly put together lot to repeat that on an even bigger stage.

If Nigeria are disgraced at the Confederations Cup, Keshi will consider it a disgrace to the continent. With that at the back of their minds, it's no surprise World Cup qualification was not prioritised higher. Despite the country's sports minister ordering Keshi to focus on the World Cup proper rather than its preparatory run, he seemed to want the best of it all.

Make no mistake that Keshi will be as embarrassed should Nigeria fail to make it to the World Cup but he also knows they have another chance to get there and he backs them to do that. For now, his focus is on acquitting themselves admirably among the best teams in the world and his record suggests he may be able to do that.

Nigeria have been undefeated in the last 12 months. In that time, they have beaten the likes of Venezuela, Ivory Coast and Mali and most recently drawn with Mexico. Their last defeats came at the hands of Peru and Egypt in friendlies in May 2012. The most impressive aspect of that run is that it was achieved despite changes to the team by virtue of injuries or tactical amendments. That is the clearest sign of depth any team can have.

There are still concerns about the unit they have chosen to represent them in Brazil. Without key attacking players such as Victor Moses and Emmanuel Emenike, which could not be helped because of minor injuries, Nigeria were wasteful against Namibia and will need to pin responsibility quickly on someone else to find the back of the net.

Nigeria have a crop of talented forwards, not least Ahmed Musa, and if John Obi Mikel can take on the role as creative director, they could be a handful to keep in check. The injury sustained by Onazi Ogenyi could prove to be a major setback and he is now a doubtful starter but Nigeria will have to find a way around it.

Defensively, they are solid and occasionally spectacular but some fans back home have lamented the exclusion of former captain Joseph Yobo, who was benched during the Nations' Cup and has not been looked at since. Yobo is the country's most experienced player and some feel they could use his knowledge in a major event.

But Keshi is not one for turning back and for him the Confederations Cup can is a way to move forward. If they can overcome one of Uruguay or Spain, they will be the first step before they "finish the job," in Keshi's words of qualifying for the World Cup when they return home.