Egypt almost there, Cameroon keep it interesting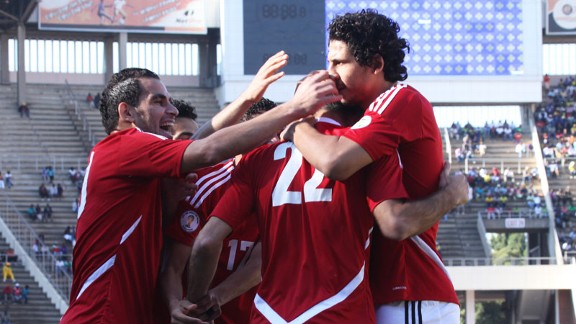 APEgypt clinched a 4-2 victory over Zimbabwe
Egypt are the only team to maintain a 100% record after four rounds of Africa's World Cup qualifiers. Their 4-2 win over Zimbabwe kept them at the top of their pool but Guinea's 6-1 thrashing of Mozambique means they will have to wait for later in the week to try and secure a playoff place.

- Part 1: Congo and Tunisia made to wait
- Egyptian Mido announces his retirement

Football Africa runs its eye over the second set of groups from F to J to see who could make the trip to Brazil.

Group F
The matches between Nigeria and Kenya and Nambia and Malawi were played on Thursday with the Super Eagles 1-0 win assuring they broke free of the chasing pack. There is still a lot for them to do too ensure they make it to the final round.

Beating Namibia this week is a must and they will be bolstered by news that their opponents have suffered a major setback. Even though they gave coach Roger Palmgren a decent start when they held Malawi to a goalless draw, he resigned citing serious death threats to himself and his family. He had been in the job for a month. His departure means Namibia have to start again, under a new manager and taking on the continental champions to do that may not be ideal.

Group G
Egypt's Mohammad Salah's hat-trick included one of the goals of the campaign when he rounded two Zimbabwean defenders from outside the box and beat the goalkeeper as Egypt won their fourth match. That result would have been enough to make them the first team to secure a final round place but Guinea ensured they would have to wait a little longer.

Their rout of Mozambique included braces from Sadio Diallo and Mohamed Lamine Yattare. The result could have been even bigger because Guinea were awarded a penalty which they missed in the sixth minute.

To remain in contention to overthrow Egypt, not only do they have to beat Zimbabwe, but they have to hope the Pharaohs falter against Mozambique. It appears unlikely and Egypt will target this weekend as the one that seals their fate.

Group H
Algeria and Mali are in a seesaw contest for this group and it seems destined for a tight finish. The North Africans are aiming for a fourth World Cup appearance and top the group after their 3-1 victory over Benin. It was the second time Algeria have recorded that margin of victory over Benin and their goal difference remains an impressive plus seven.

They will need to win both of their remaining matches to be certain of nailing down top spot but will have the confidence to do that after Mali had to wait for the last quarter of their match against Rwanda to draw level and failed to claim maximum points against a 10-man opposition.

It was their first match without Patrice Carteron, who left them to join TP Mazembe. Interim coach Pathe Diallo will have to engineer victory over Benin to keep Mali in the hunt.

Group I
This group was blown open and could go down to the final weekend in September in what will be a thrilling finish. Libya and Cameroon are locked at six points each, the DRC just one behind and Togo a further point back which means all four teams remain in contention.

Libya were held to a goalless draw in Tripoli and have their goalkeeper Robert Kidiaba to thank for keeping them alive. He saved a first-half penalty and saved another chance in the 36th minute.

The surprise came from Togo, who beat Cameroon 2-1 in Lome. Cameroon were without Samuel Eto'o, who was injured and his absence showed. They play Libya next and will need to win to keep pace with the rest of the pack.

Cameroon travel to the DRC, who will consider them ripe for the picking, especially with the knowledge that a win would push them to the top of the pile, depending on the outcome of the other match.

Group J
This is another exciting pool with Senegal leading on six points, Uganda one behind and Angola and Liberia simmering on four. Senegal's slump continued. After they fell dramatically in the FIFA rankings earlier in the week, they were held to a 1-1 draw against Angola.

The match was level in the 51st minute and both sides had chances to claim bragging rights as the match drew to a close. Neither could convert their chances and the governor of the Luanda province in Angola was so irritated by it, he criticised Angola's lack of killer instinct.

Senegal play bottom-placed Liberia, who were beaten 1-0 by Uganda. The Cranes were harshly written about by the country's Observer newspaper, which said Liberia were the better team and Uganda lacked the stamina and spirit to justify their win. Nonetheless, they have three points and lie in second place with a real chance to challenge for a place in Brazil.