The first time Benni McCarthy got into the 18-yard area and it mattered, there was perfect symmetry because he 18 years old. It was 1995 and he was playing for the now-defunct Seven Stars football club in Cape Town, South Africa. It was his only league goal that season but it was the one that put him on the professional football map.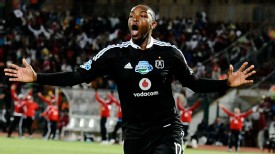 GettyImagesBenni McCarthy celebrates a goal for the Pirates
He was a kid from a poor town, Hanover Park, where the living was rough and the prospects few, but he had talent. So much so that when the club folded, they took him to their new 18 area, Ajax Cape Town, formed as a feeder side to the Dutch team of the same name.

He was noticed at national level, played in the African and FIFA Youth Championships and joined the parent club in Holland. Incidentally he also made his international debut against that country.

In his first season, they won the league and he found himself successful in their 18 area nine times. He looked every bit the next best thing and in 1998, he told us so.

Benni went into a different kind of 18 area that year. As South Africa prepared to participate in the World Cup for the first time, Benni collaborated with popular kwaito group TKZee and rapped the lyrics to a song about himself.

To a sample of Europe's "Final Countdown," Benni and the band coined "Shibobo" (which means to shoot the ball between someone's legs) and the song was a hit. It sold over 100,000 copies,a big deal for small country and its most memorable line was simply "Benni in the 18 area."

It brought back memories of his stunning run at the African Nations Cup months before, when he was the joint top-scorer with seven goals. It brought back memories of his four against Namibia in 13 minutes and it prophesised about the goals to come.

The equaliser against Denmark at the World Cup which ensured South Africa still had a chance to qualify for the second round. The 12 goals for Porto in the 2002-03 season which help them seal third place. And that header. The one that towered past Manchester United's Tim Howard to give Porto a 2-1 win and pave the way for them to be crowned European champions.

McCarthy, 35, remains the only South African footballer to have won that competition, the only one to claim to a league title in three different countries -- Holland, Portugal and his homeland -- the only one to have commanded a fee as high as $8 million when transferred to Spanish side Celta Vigo and the only one to appear on the cover of Time magazine.

Those reasons would be enough to call him the best footballer the country has ever produced, but add that he is the highest scorer and there cannot be any more debate. His goal against Paraguay in a friendly in 2008 saw him leapfrog Shaun Bartlett. He ended his international career with 31 goals, but it did not end as well as it started.

His well-publicised battle of the bulge, which eventually ended his dealings in the English Premiership, came back to haunt him as he hoped to play in the country's home World Cup. Fitness and form concerns meant McCarthy was left out of the squad for the 2010 World Cup but he went on resurrect his career in the land of his birth.

He was contracted by Orlando Pirates and his last memorable strike in the 18 area was his brace against Golden Arrows at the end of the 2011-12 season, which secured the South Africa league title for the team he said he always wanted to play for. Injuries forced him out of a lot of what turned out to be his final season.

Now the only 18 area Benni will be in is if he is demonstrating something to players he hopes to coach. He will occasionally appear in areas of other sizes, as a television commentator and a celebrity add-on at important functions. But he has a left a legacy that goes far beyond that space which South Africa's next generation of footballers.