Nigeria break free, run over Kenya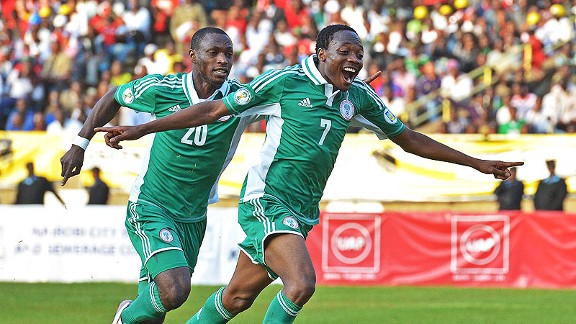 CARL DE SOUZA/AFP/Getty ImagesAhmed Musa, right, celebrates after scoring for Nigeria in their 1-0 World Cup qualifying victory in Kenya Wednesday.
African champions Nigeria assumed a commanding position on the road to Brazil 2014 on Wednesday when they beat Kenya 1-0 in Nairobi.

They were helped by Malawi's flames being dulled by a severely depleted Namibian side in a goalless draw.

Nigeria have broken away in the group and are now two points clear of the chasing pack. The result will be a massive relief to Stephen Keshi, who was faced with a plethora of problems going into the game.

The friendly against Mexico on Friday night was the source of almost all of those woes, but Keshi watched them dim into nothingness as Ahmed Musa's chip beat Duncan Ochieng.

Suddenly, being held to 2-2 by a 10-man Mexican side did not seem so bad even if Nigeria were leading. The 22,000 kilometres they travelled in five days across three continents -- from North America to Germany and then Nairobi via Addis Ababa -- stopped affecting them, and the three injuries they suffered there also did not come back to haunt them.


Brown Ideye, who had a strained hamstring and was considered most in doubt, was in the starting XI. He had a chance to score in the first minute to ensure Nigeria did not miss their other attacking trip -- Emmauel Emenike, Kalu Uche and Victor Moses -- too much.

Instead, it was their strong defence that became the focus briefly when Victor Wanyama showed why he is regarded as the most outstanding player in Kenya. He almost had an opportunity off the first corner and had another just before half-time when he shot wide.

His efforts yielded nothing but a show of bravery because at half-time, it was goalless -- the first time there was been no score at the midway point of a match between Kenya and Nigeria.

The Super Eagles were more aware of the threat of Wanyama in the second half. Another who was on the injured list after the Mexico match, Ogenyi Onazi took him down with such vigour he was yellow card and Wanyama needed off-field treatment.

Nigeria were threatening throughout, but it was not until they upped the ante in the last 15 minutes that the tide seemed certain to turn. John Obi Mikel had a chance from long range that went over and then Musa scored.

Nigerian fans were not able to see the crucial goal, or any other part of the match, because it was not broadcast in their home country. But they will probably agree that a 1-0 win does not fulfill Keshi's request that they "play like the champions we are."

Much of the encounter was scrappy, even though Kenya struggled to get out of their own half. If the number of fouls could be swapped with the number of chances, it would have been a far more engaging encounter. But that does not matter when considering what was at stake.

A Nigerian side without some of their superstars were desperate to show they have the depth to succeed. They have done that. Kenya, who had hopes of proving the same, are the disappointed ones.

Before the fixture, Kenya's main daily newspaper, The Nation, proudly declared the national team had "revenge on their minds and desire in their hearts." It was a war-cry of sorts and a way to show their determination to do better.

All of that has come to nothing. Kenya cannot qualify for the 2014 World Cup, but can cause problems for others in their group.

Unless Malawi beat Kenya next Wednesday, they will also be out of the running and Nigeria, provided they win against Namibia, will be through to the two-legged playoffs. Before Wednesday, that would have seemed a simple enough task, but Namibia showed they also have some fight.

They were without a quarter of South Africa-based players who were all injured. Without Rudolf Bester, Henrico Botes, Heini Isaacks and Ronald Ketjirere, new coach Roger Palmgren was thought to receive a baptism of fire in his first assignment as coach. But, it was far from that.

Namibia suffered only one scare, when Esau Kanyenda missed an easy header, and held their own against opposition who have been punching above their weight in the qualifiers so far.

Now they have to hit even harder if they want to qualify for their first World Cup and it may prove too much in a group Nigeria were always expected to win.