Historic FIFA appointment for Burundi's Nsekera
FIFA left a two-million-dollar mark in Mauritius this week. Apart from granting the Indian Ocean island nation the right to host the organization's 63rd Congress, it also completed its fourth goal project in the country with the installation of a football pitch.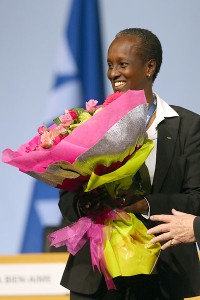 Alexander Hassenstein/Getty ImagesBurundi's Lydia Nsekera made history at FIFA's meeting this week in Mauritius.
Mauritius now houses one of the best training complexes in Africa as they seek to improve their ranking from 189th in the world and begin to compete with some of the best. But the big spending is not the African development this this year's conference will be most remembered for -- it is the appointment of Burundi's Lydia Nsekera as the first woman on the decision-making executive committee who will be associated with the Mauritius meeting from now on.

Nsekera is a beneficiary of FIFA's decision to reform following its recent scandals, including the shenanigans around the bidding for the 2018 and 2022 World Cup. She was preferred over two other women from Australia and the Turks and Caicos Islands (a representative from New Zealand pulled out on the eve of the vote), with all three elected to the executive committee. Only Nsekera will have voting rights -- she is the only woman in FIFA's 109-year history to have that power.

And not everyone is thrilled about it. Nsekera's appointment is seen as another case of "pandering to the African vote," something Blatter has been accused of in the past. Critics argue Blatter handpicked her for the role after co-opting her to sit on the executive board a year ago and the rest simply went along with the status quo.

According to sources "all she has ever said in a meeting is thank you for taking women's football seriously." Maya Dodd of Australia, a lawyer, would have been a better candidate, but she called Nsekera's appointment a "landmark day" for the game.

But there will be some who defend Nsekera by pointing to her rich history in sport. She was previously a member of the International Olympic Committee and has headed the Burundian FA since 2004. When she took over, FIFA froze grants to her country because of allegations money was misused.

She was running a car-repair business at the time but was involved in the country's competition committee and was assured by members of the executive board that if she stood for office, she would be allowed to make extensive changes.

In her own words, she "overhauled regulations and reorganised the league." Burundi moved to three league divisions, she carried out an audit of players and introduced financial discipline. FIFA recognised her work when they offered to pay for a new office and fund a training program. Under her administration, the national team moved from 147 to 104th in the world and now sit at 124.

Nsekera has also been part of FIFA's independent governance and women's committees and has a strong focus on ending discrimination across all lines in the game. While she intends to make women's football more prominent than it is now, she will no doubt also seek to enhance Africa's reputation, which will be in the spotlight again this weekend.

Some of continent's biggest teams will take the field in friendlies as they ready themselves for next week's World Cup qualifiers. Nigeria have travelled all the way to Texas to play Mexico Friday (9 p.m. ET ESPNNEWS/ESPN3/WatchESPN) in a friendly with instructions from president Aminu Maigari to play "like the African champions they are."

Libya and Uganda meet in a warm-up with the former hoping to get more out of the match. Library are second in their World Cup qualifying group, behind Cameroon who will play against Ukraine, and a win could see them creep up on the West Africans.

Likewise, the match between Sudan and Tanzania will be important for both teams. Sudan have slim hopes of making it to Brazil but have had poor form recently, losing to Ethiopia, while Tanzania can catch the Ivory Coast in their pool.

South Africa also have a big week ahead. They are eyeing overhauling Ethiopia in their group but are without six key players including Crystal Palace's Kagisho Dikgacoi, which has left their defence with gaps that need urgent filling.

Weekend friendlies: Libya-Uganda; Lesotho-South Africa; Sudan-Tanzania; Algeria-Burkina Faso; Ukraine-Cameroon
Tuesday: Egypt-Botswana