Namibian football on the rise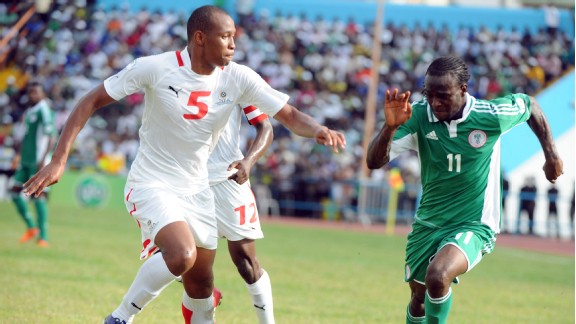 GettyImagesNamibia's Angulo Dacosta tangles with Victor Moses
Playing football on a beach is tough; now just imagine doing it on a sand dune.

Not that it's what they do in Namibia, but you would be forgiven if you thought something along those lines.

With one of the smallest and newest associations on the continent, Namibian football is not very well-known. Nor is it very prestigious. Having played their first international 23 years ago, Namibia have always hovered below the top 60 on the FIFA rankings and have never qualified for the World Cup.

They did make it to the African Nations Cup (ANC) twice and were knocked out in the first round both times.

The first official match they played as a country was when they were still called South West Africa. They lost 1-0 at home to Angola in May 1989. Less than a year later, Namibia became an independent country and two days after their freedom was declared, they played football in celebration. The fixture itself was not a cause for much joy as they were pummelled 5-1 by Zimbabwe. Namibia played a match outside Africa for the first time in 1998. They lost that too, 2-1 to Saudi Arabia.

Part of the lack of development, or late development, has been pinned on Namibia's status as a South African protectorate. South Africa occupied its neighbour from World War I, when it defeated Germany in the territory. Even though the UN recognised the South West Africa People's Organisation as the official representative of Namibians in 1973, South Africa only relinquished control 17 years later.

As a result, the same Apartheid system that existed in South Africa also existed in Namibia. It meant separate amenities for people of different races and was a way for the white minority to take control over the black majority. Their football leagues were also separate - although mixed football could be played in 1977 - but Namibia as a whole languished in the sport.

When the debate arises about the best player to feature in that generation, it sways between Hasoo Ahrens, who was white and Pele Blaschke, a black player who was spotted by Kaizer Motaung and taken to play for Kaizer Chiefs in South Africa.

One editorial even makes the point that people from different regions were unaware of players who were doing well in other regions because they were confined to their own areas and were only exposed to the game there. Most of the players who became well known were those that played in South African leagues, and then they became relative strangers to the Namibian people.

Now, the league system is thriving and not as many players go overseas. African Stars, a Windhoek based club, top the league with Ramblers - whose club website explains how they fielded the first multi-racial team - are second.

Stars have won three of the last five years of competition and have recently hired Ali Akan - a Namibian of Kurdish descent who is called Namibia's most decorated football coach. He has brought about drastic change in the style of play at the club, which some carry through to national level. Instead of long-ball style, Akan is more attacking.

If that does carry through to national level, Namibia are hoping it reflects in their World Cup qualifying campaign. They currently lie second in their group and beat Kenya in their last match. But football is about more than just results in Namibia. It has become a vehicle for social change. Currently, they have a schools programme running called 11 for Health which aims to teach children how to live balanced lifestyles through football.

Another interesting project is the annual match between Stars and the Lismore Legends - who are group of refugees - which is into its fifth year. The match was originally held in conjunction with National Refugee Week but is now a standalone event and its main goal is to bridge the gap between various cultural communities.

African Stars won the first three years, but Lismore came back in 2011 to beat them 4-2 and the league leaders are keen to ensure that does not happen again. "It started off quite socially, but it's become quite competitive," John Bancroft, Lismore City Council general manager said.

Women's football has also gained prominence in Namibia. Earlier this year, one of the country's magazines, Confidente, ran an interview with Julien Garises, a former player who is credited as the founder of the ladies' game. They spoke to her in detail about the state of the sport today, 21 years after she and three friends decided to start a women's league. They were watching the World Cup final between the USA and China. "We were first shocked when we saw women playing football at that level," she recalled. "There and then we took the decision to get local women's football structures up and running."

The day after the trio decided to launch a ladies' competition, which was announced in The Namibian, more than 100 women and girls answered their call at a training session. A men's team, Sorento Bucs, agreed to let the women share their facilities and since then they have made good progress. Namibia has women's teams from under-16 to international level and a national school of excellence for girls.

Garises was part of the working group that drafted a four-year programme for women's football development and attended the first FIFA Women's Symposium in the USA. She remains an integral part of the country's plan to grow the game.