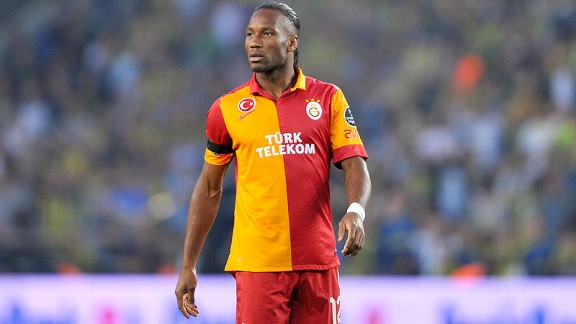 OZAN KOSE/AFP/Getty ImagesDidier Drogba took to Facebook to respond to those fans who have racially abused him in Turkey.
Football on the continent endured a particularly blue Monday after an incident filled weekend. Two stand out: Ghana's Asamoah Gyan missed out on a top prize and Didier Drogba's battle with racism continued.

The outrage over both is almost equal although perhaps the first should not be taken as seriously as the second. Gyan was not named the UAE's international player of the year despite breaking the record for the most goals scored in a season in the country's top-flight -- 31. The feat was even more remarkable because Gyan missed almost ten weeks of the season: six because of his involvement in the African Nations' Cup and four with a thigh strain. But it was not enough to see Gyan recognised even though his club Al-Ain won the league.

Instead, the award went to Al-Ahli's Grafite and the only conceivable reason for that could be because of Gyan's performances in the AFC Champions League. He scored once in four appearances and his coach, Cosmin Olaroiu, said he expected more from him. "For me it is important that Asamoah Gyan breaks the record in all competitions," Olaroiu said. No pressure, then.

Gyan may not be too fussed about the snub because he did pick up the Al Hadath Al Riyadi's golden boot for the top scorer in the Arab leagues in 2012 and he may not hang around for much more. He hinted he may not hang around in the country now that he has made his point.

"I think I've proved myself and I've proved to my fans what I'm capable of. I came here in a controversial move to the UAE and since then I've been able to prove myself," Gyan was quoted as saying in the newspaper Sport 360. When asked about his future, he was cagey. "We don't really know at the moment, we have to finish this season, go for holidays and hopefully we will see next season."

Someone who does know where he is going to spend his immediate future is Drogba who has committed himself to Turkey despite his battles against some of the country's fans. Drogba and his teammate Emmanuel Eboue were victims of a banana-waving incident two weeks ago, which was widely condemned for its obvious racial undertones.

Drogba responded to the gesture on Galatasary's Facebook page, reminding supporters who scored both goals for Fenerbache in the one of the city's biggest derbies. Cameroon's Pierre Webo netted twice to down Galatasaray and when Drogba was taunted by the fans, he had this to say:

"You called me monkey but you got mad when I became champion with Galatasaray and the saddest thing is you called me monkey and forgot that you jumped when my 'monkey' brother scored twice yesterday... and you call yourself a true fan?."

Incidents of this nature are not new to African footballers playing abroad and there is an encouraging sign that the Turkish ones will be taken seriously. The country's minister of sports and youths, Suat Kilic, invited both Drogba and Webo to a lunch to discuss the issue.

He claimed he did not know the throwing of the banana peel was racist and when he learned it was, he was "saddened." Drogba accepted it was an individual act and not a reflection of the country's fans as a whole and hopes to move on.

Worryingly, Drogba said he thought it was best "not to speak of it," because "the more we speak, the worse it gets." Popular opinion is the opposite: more awareness, like Drogba's Facebook message will lead to more action being taken and more being done to stop the culprits. Turkey's newspapers have already hotly debated the subject and seem intent on spreading the message of cleaning up the fans.