Tough tasks ahead for Carteron, Finke in new coaching jobs
Do Patrice Carteron and Volker Finke know what they've signed up for? The pair accepted two of the toughest jobs in Africa, with the former leaving Mali to join TP Mazembe and the latter in his first international assignment with Cameroon. Attached to their new posts is prestige and glamour but also massive expectations, perhaps more than either has bargained for.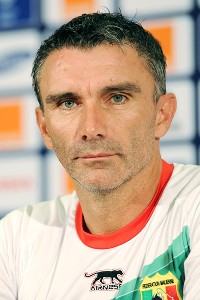 Stephane De Sakutin/AFP/Getty ImagesPatrice Carteron faces a different set of pressures as he moves from Mali national coach to TP Mazembe manager.
Carteron has already started on a sour note. His former bosses have threatened to "sanction" him because he has breached his contract. Malian Football Federation president Hamadoun Kola Cisse made it clear that Carteron's time with the national team runs out next year and they intend to use him until then. If he steps away, they will take action.

Carteron took Mali to third place in the African Nations Cup for two tournaments in succession and was said to have had a good working relationship with the players. Indications are that he will stick around to manage them in their World Cup qualifiers next month before moving on, but if the acrimony between him and the MFF is as bad as it sounds, Carteron may find himself in Lubumbashi sooner than expected and with a lawsuit.

Once there, he will likely discover things can be just as hostile further south. Mazembe are unhappy with the manner in which they were dumped out of the CAF Champions League before reaching the main draw and by a somewhat unfancied Orlando Pirates and want swift change.

They dispensed with their entire technical team and fired their sports committee in the aftermath as a sign of their no-nonsense approach. Senegalese coach Lamine Ndiaye offered to resign but was retained as technical director. Their message is simple: win or we get rid of you -- and Carteron only needs to look at the fate of his predecessor to see that.

They are on track to progress in the CAF Confederation Cup (not quite as important as the Champions League, but it will have to do) and there is little doubt Carteron's mandate will be to triumph there. He will have a team of superstars to do that with, but not necessarily a unit that has the same heart as the Malian side he knew.

There, led by the talismanic Seydou Keita, they believed they were playing for something greater than just the game. Their country went through a severe famine and a war in the time Carteron was in charge. The team were ambassadors.

TP Mazembe are owned by the governor of the Katanga province, which is rich in copper. They consider themselves a continental heavyweight club, having played in the final of the Club World Cup in 2010, and the only cause they are fighting for is keeping the man with the money happy and the fans satisfied. They are professional sportsmen.

It will present Carteron with a completely different set of challenges to the ones he had with Mali, and dare we say, more pressure. There will be no excuses for underperformance and he will have to ready himself for the hardness of his new environment.

Likewise, Finke will have little wriggle room. He has been ordered to ensure the Indomitable Lions qualify for the 2014 World Cup. They lie at the top of their group but have Libya and the DRC on their heels and one slipup will cost them.

Pundits will be quick to point out that he only has experience with clubs, so the over-riding question will be whether he can make the step up. But it is not as basic as a straight line. Finke has no experience in Africa either which means he will have to look sideways as well as ahead as he hopes to progress.

He will find politics has a big say in his new country and managing a marquee man like Samuel Eto'o, who has often clashed with the administrators, will not be a simple task. He does not have much time to get the balance right, either. Finke's first match is a friendly against Ukraine next weekend before facing Togo in the first of what he will regard as must-win matches on the road to Brazil.

Outgoing coach Jean-Paul Akono, who is believed to have had a mild heart attack, submitted a squad for those games to the governing body. That was rejected at first, because they wanted the new coach to choose his own players, but it has since been accepted. That means for chapter 1, at least, Finke will know exactly what he has to work with.