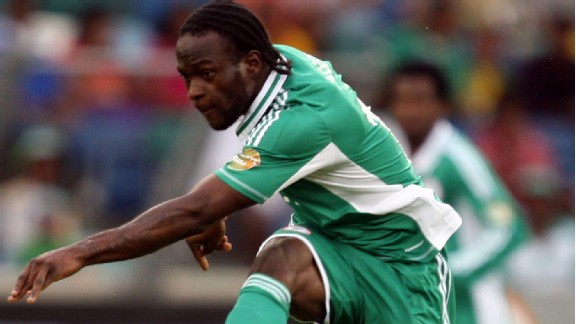 GettyImagesVictor Moses will be sorely missed for Nigeria's upcoming matches
First there was no Emmanuel Emenike. The African Nations' Cup joint top-scorer was ruled out of Nigeria's squad for next month's Confederations Cup with a knee injury that will keep him out of action until at least July.

Now there is also no Victor Moses or Kalu Uche. Moses was withdrawn after Chelsea decided he needed to treat a recurring injury, while Uche, who has been playing with a niggle for Turkish side Kasimpasa where he ended as the league's second highest goal scorer, said the doctor has advised him to take time off.

At first Nigeria were simply missing someone, now they are in some trouble. They will be without three of their most important playmakers as they represent the continent against other global champions. Stephen Keshi is completely justified in his annoyance, which was evident despite his brave face and complete confidence they have the players to achieve nonetheless.

The Big Boss was upset with the pair for pulling out at the last minute and not informing him of their state of health earlier. He didn't say it but if he also felt betrayed that the duo's loyalties are obviously with their clubs – Moses will even go on Chelsea's pre-season tour to the USA although he will not participate but will be monitored by medics – that would have been acceptable too.

Nigerian football is in a unique position. They have qualified for a Confederations Cup for only the second time in their history and they stand in good stead to qualify for the 2014 World Cup. They need their best for both upcoming engagements and when some of their best cannot commit to them, that is cause for unhappiness.

Keshi has decided it is "too late" to call up replacements, which can only mean he will make do with what he has at his disposal. It will probably mean he will rely even more on the 13 locally based players he named in his squad and the likes of Sunday Mba – who scored the Nations' Cup winner – will have to produce.

Already, Keshi has demanded his charges bring home silverware. "We will not go to Brazil as tourists but as challengers," he told BBC Sport. But it will not be an easy task. Nigeria are grouped with Tahiti (who they will fancy themselves to beat, no doubt), Uruguay (who Ghana will want the Super Eagles to beat to avenge their 2010 World Cup quarter-final loss) and Spain. To advance from there will probably be regarded as achievement enough.

But Nigeria's new technical director Amodu Shaibu has advised against placing too much importance on the competition and instead focus all energies on qualifying for the tournament proper in Brazil next year. He went as far as to say there will be no benefit in winning the Confederations Cup other than prestige and hoped fans would not place undue expectation on Nigeria for the tournament.

The Super Eagles are currently joint pace-setters in their World Cup qualifying group. Both them and Malawi have collected five points from three matches and have the same goal difference of +1. They will play Kenya and Namibia on the 5th and 12th of June. On the face of it, Nigeria should win both but they were held by Kenya to a 1-1 draw in their previous meeting and will be keen to correct that.

Nigeria have a high-profile friendly match against Mexico planned for May 31 in Houston, Texas before they head back to the continent to play their two World Cup qualifiers. Following those fixtures they make the journey to Brazil.