Blood and Gold, West Africa's finest and two rookies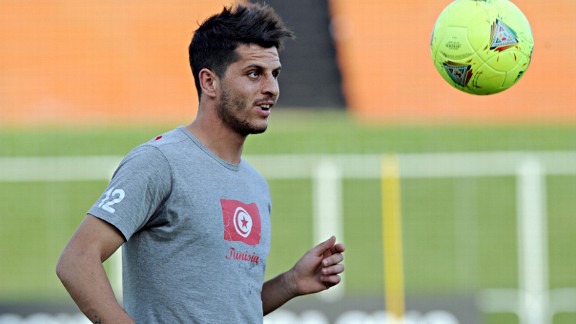 GettyImagesEsperance captain and Tunisia defender Khalil Chammam
This half of the Champions League draw will likely catch fewer eyes than its counterpart. Group B does not seem to sparkle with superstars but it is definitely worth a second look.

The pool contains a defending champion, a rising West African talent and two newcomers who have everything to prove. Here's what to look forward to when these four teams kick-off.

- Group A: Princes of Egypt, Pirates and Leopards

Esperance

The Blood and Gold are out and out favourites if only because they have been here many times before. They won this event two years ago when they beat Wydad Casablanca in the final. The core of that squad remain, the likes of goalkeeper Moez Ben Cherifa, captain Khalil Chammam and Ghanian defender Harrison Afful.

What they are missing is the strike force. Youssef Msakni plays in Qatar while Oussama Darragi and Joseph Ndjeng are in Switzerland. Their loss was evident in last year's competition when Esperance remained defensively strong but lacked somewhat in attack. That will be one of the areas they want to show improvement in during this campaign.

So far they have been fairly quiet but clinical and importantly for them, already beaten Angolan opposition in the tournament so far. They beat Primeiro de Agosto both home and away to advance 2-0 and then defeated Algeria's JSM Bejaia out with a 1-0 win at home.

Coton Sport

Cameroon's Coton Sport have only appeared in the Champions League once before. That was back in 2008 and they stunned the continent with a dream run to the final. That they eventually lost does not make it less of a fairytale.

The team gets its name from the country's largest cotton growing established, where they were founded as a company team. They joined the league 27 years ago in 1986 and seven years later they were promoted to the first division. Since then, they have gone on to win the league title 11 times in the last 16 years.

They have a large fan base who will be hungry for a repeat, or one better, than they achieved five years ago and they may see this group as the ideal place to do it. Coton Sport's journey began on the back foot after they were held to goalless draws by Uganda Revenue Authority in the preliminary round and advanced 4-3 on a penalty shootout.

They were more convincing in the first round where they beat Ivorian side AFAD Djekano 1-0 away and 2-1 at home and they showed what they are capable of when they ran riot against Mali's Stade Malien with a 3-0 win to qualify for the main draw.

Sewe Sports

The Ivorian champions are one of the newcomers and they have been touted as a potential giant of the continent. They won their league for the first time in 2012 and although they are competing in the main draw for the first time, they are not naive about their opposition.

In fact, they have a bone to pick with one of them. Coton Sport beat Sewe 4-0 in the qualifying for the 2007 Champions League and defender Jules Ceser Yobouet predicts a grunge match. He also said the team want to use the tournament to test themselves against the best. "We wanted Esperance and Al Ahly in our group. We have the first one which is nice, because these kinds of games teach you the top level," Yobouet said.

Already, they have slayed one giant. After beating Guinea's Horoya 3-0 in the preliminary round, they shocked Sudan's Al-Hilal, one of the tournaments biggest names. They beat them 4-1 at home and survived at onslaught in Omdurman to advance 5-4 on aggregate. An away goal against FUS Rabat saw them through to the main draw.

Recreativo do Libolo

Their strength will be in the element of surprise because all the other teams in their group confess to not knowing much about the Angolans. They are two-time league champions and will appear for the first time in this competition's main draw.

Previously, they had the advantage of training in Portugal where they prepared for the defence of their domestic title last year. It worked because they returned home and won.

So far, they have sent out warning signs to the rest of the group. They ran riot over Tanzania's Simba 5-0 in the preliminary round and beat Sudan's Al-Merrikh 4-2 in the first round. A 3-1 home win over Enugu Rangers clinched their main draw spot.