COSAFA Cup returns - can it be successful this time?
After a three-year absence, will anyone even notice the COSAFA Cup is back?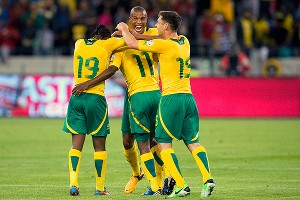 Roger Bosch/AFP/Getty ImagesSouth Africa's presence in July's Cosafa Cup in Zambia could give the resurgent event a needed boost.
Maybe the presence of a strong South Africa, who hope to gain valuable playing time at the event, will work in its favour when the 14-team competition is held July 6-20 in Zambia. Maybe the East African particpants -- Kenya and specifically Tanzania, who could cause an upset in their World Cup qualification group -- could do it. Maybe the novelty of having the regional competition back will be enough. But it's doubtful.

The truth is that few people probably even knew the COSAFA Cup (named after the association of football-playing nations in Southern Africa) was gone and fewer will be interested in its outcome this time. A lack of big-name nations and a lack of reputation could cost the event, which aims to make a sustained comeback since it was cancelled for 2010 when Angola could not honour its hosting agreement.

Before that, the tournament was held every year since 1997, most often as a seniors' cup. Zimbabwe won it four times and were also the last champions. But the tournament is better known for suffering major setbacks, most notably the loss of its sponsor, South African Breweries, after 10 years. It went from being a months' long event to being a series of mini tournaments as funds ran out and eventually, it collapsed.

Now, the beer company is back on board with Castle Lager the title sponsors and the competition is set for re-inauguration as an annual event. It will have some drawcards but on the whole it will simply pose a question for how regional tournaments can have a place amidst a packed schedule.

Chiefly, their function on the continent has been to allow locally-based players an opportunity to compete at a higher level. Occasionally they produce a star, but most of the time, because of their low profile, they have often often failed to attract corporate backing and large television rights deals and many of them fall through.

West Africa is on its third try. It used to host the West African Nations' Cup, which was succeeded by the CEDEACO Cup and the WAFU Cup. Countries from central Africa are also trying again. They played in the UNIFAC and UDEAC Cup and now compete in the CEMAC Cup. Southern Africa had the COMESA Cup, now the COSAFA Cup.

Interestingly, North Africa have not bothered with one. In fact before 2005, they did not even have a federation. They did hold the Arab Super Cup, a competition for clubs, starting 1992 and abandoned it after 2001.

Despite that, they have produced the most number of continental champions -- 10 -- and have the best success rate with their clubs in the Champions League. In the last 16 years, a North African side has won the title 10 times and only twice has a North African team failed to reach the final. Egypt and Al-Ahly have dominated, but there have been glory periods for others as well.

With that in mind, one would be forgiven for guessing that a North African competition would garner interest and longevity, but there are no signs one will exist soon. Only East Africa have managed to keep a geographical event going. The CECAFA Cup has been played every year for 40 years. Before that, it was called the Challenge Cup and Goosage Cup and its winners' list has records dating back to 1926.

It can't be a coincidence that the region which has produced the joint fewest number of continental champions, East Africa -- who have had two in Ethiopia (1962) and Sudan (1970) -- has the most successful regional event. They must have a secret and it probably stems from their lack of impact at continental level. That likely concentrates interest on their regional tournament where the quality may not be as high as elsewhere but the competition is.

There is another group that has also only had two continental kings -- Southern Africa. Bafana Bafana in 1996 and Zambia in 2012 are their only successes and their clubs also struggle to put in telling performances at major events.

If the theory follows, the COSAFA Cup has the chance to be hugely successful and all they would have to do was ask their eastern counterparts how to do it. My guess would be to go about it the same as most times: aggressive marketing, cheap tickets, easy access for fans and ensure there are some, but not too many, big-name drawcards, be they teams or players.

Then supporters in Mauritius, Namibia and Swaziland will want to watch their teams triumph at some level and could look forward to them getting the chance to pull off an upset against one of the bigger brothers. And then, some may notice the COSAFA Cup after all.

Participating teams:
Group A: Tanzania, Namibia, Mauritius, Seychelles; Group B: Botswana, Kenya, Lesotho, Swaziland. Knockout stage quarterfinals: Zimbabwe-Malawi; Zambia-Mozambique; South Africa-Group A winner; Angola-Group B winner.