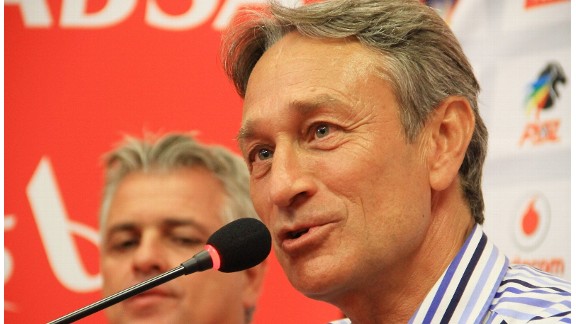 GettyImagesMuhsin Ertugral is back at Ajax Cape Town
I last saw Muhsin Ertugral more than two months ago. He was walking along Cape Town's Sea Point Promenade with an expression as calm as the ocean in front of him. That's not to say he was strolling leisurely. I don't think he would know how.

He was surging ahead at good pace, determined to get in some brisk exercise. He did not pause to greet anyone who wanted to say hello but he smiled broadly, at everyone. He looked happy; much happier than he has so often been on the touchline of the football pitch.

There, Ertugral was angst personified. Other football coaches get animated, but Ertugral is an entire Disney movie cast. His eyes would flash, sometimes with the urgency of a Hummingbird's wings, his hair would stand on end and when he brought a hand up to ruffle it, some strands would veer wildly to give him a scarecrow-like look, his arms would wave emphatically as he issued instructions and his left eye would half-close to exacerbate his squint and make him look somewhat menacing.

It always seemed there was a possibility the stress would make him burst open and reveal a belly filled with flames. He hasn't looked like that since he resigned from Golden Arrows last year but has now decided to return to the league of his discontent. I wouldn't blame anyone for wondering why.

Seemingly, Ertugral could do something a little less demanding. He was recently in his home country, Turkey, readying for a stint at the under-20 World Cup and has spoken about trying to find work in Japan. But then an old friend came calling.

Ajax Cape Town, who Ertugral coached to ABSA Cup victory in 2007 and who lie second from bottom in South Africa's Premier Soccer League, asked for his help in avoiding relegation. The temptation was too great: to return to the city he loves, the country he loves coaching in, the footballing structures he loves being part of despite equal amounts of success and failure in them.

So he agreed. The club initially wanted to install him as head of technical affairs, because of his expertise and energy. When coach Jan Versleijen was informed of the decision, he quit, citing a desire to coach the team without assistance. Now, Ertugral has it all to do on his own, but he does not seem to mind.

"I had been watching the team's progress over the last few months and it was difficult to see them battle. My heart has always been with Ajax," he said.

That may not be just talk. On his first day, he spent so much time on the training field that he was an hour late for his press conference. When he eventually arrived, he looked as though he had never left. He wore his unofficial uniform - a striped shirt - and spoke with the same spark he always had. If he didn't think Ajax could survive the season, he said, he wouldn't have bothered being there.

"I'm not a coach at the moment, I'm more of a psychologist," he said, alluding to the lack of self-belief that is coursing through the Cape Town club. "We don't have a magic stick. The only thing we can do is motivate and believe in the players. I looked at the Leopards game and the boys' heads were down."

He noticed a lot of "energy" in the squad and he hopes to use that to encourage a more attacking brand of football in a bid to stay in the top-flight. "Obviously I have shortcomings in terms of my temper, but football is war, and this is a war issue," Ertugral explained. "You need to take quick decisions, and sometimes you are not the nice guy."

That can only mean Ertugral will be back to his worst and a glance at the sidelines will reveal theatrical behaviour of the most entertaining kind. He will not be able to do any of that this weekend, though. Although he has been involved in preparations for the derby match against Chippa United, he is awaiting his work permit and will have to watch from the stands.

After that, he only has three more matches to save Ajax. If he is successful, management have confirmed they will talk to him about continuing next season. As much as the promenade would be more relaxing, I've got a feeling Ertugral will want nothing more.