Monitoring gatekeepers of African football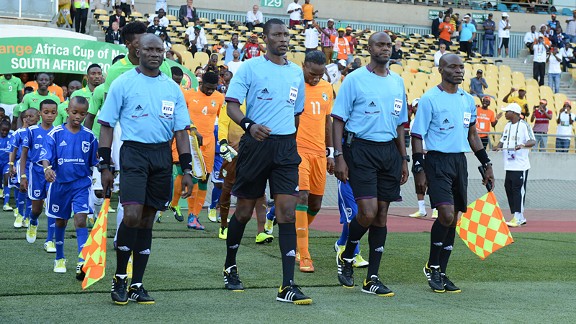 GettyImagesThe standard of African refereeing has been called into question
Burkinabe referee Ouangraoua Moumouni was only 38-years old. He was a regular officiator in the country's Ligue 1. During a fitness test, he collapsed on the pitch and was pronounced dead shortly afterwards.

His body underwent an autopsy but his family rejected the results, which have not been made public. While they have already laid him to rest, speculation continues to swirl regarding the cause of his death. The most likely theory is a heart-attack, and he would not be the only referee to suffer that fate.

- Referee sues over testicle attack

On the continent of Africa, there have been at least three other similar incidents over the last ten years. In January 2012, Uganda's David Ssebunya, 29, managed 11 out of 12 laps in a fitness exercise and then had to stop. He was taken to a nearby clinic and discharged after they found he had only mild flu. The next day, he was dead. Ssebunya had failed a fitness test two months before as well but there did not seem the need for any further investigation into his condition.

Nigeria suffered a double tragedy in September 2012 when Kunle Oyetola and AB Faloye both died on the scene of a fitness trial. Both ran 10 times around the pitch before slumping to the ground and efforts to revive them were unsuccessful. And back in 2002, Ghana's P.S Okai, who was in his 40s, also collapse during a Cooper Test - a two-day fitness assessment that is used to upgrade referees' statuses. He complained of dizziness, then seemed to have difficulty breathing and was taken to a nearby clinic where he died.

Those are the extreme cases and, thankfully, they don't happen too often. But that does not mean the continent's officials are all as fit as they should be. Last October, 10 top-flight Swazi referees failed fitness tests, which put the smooth running of the league into question.

In July, 21 out of 83 South Africans also couldn't make it through and were deemed ineligible to officiate for six months. It was put down to adverse weather conditions. This February, four referees from the central region could not complete an exercise in Malawi.

Numbers like that are a cause for concern especially because Africa is trying to fight off allegations of sub-standard refereeing, which resurfaced after the recent Nations' Cup. It will not contribute to getting referees the respect Neil Tovey, former South Africa captain, feels they deserve.

In his column, Tovery lobbied for better pay for top-officials, saying that a portion of television funds should be set aside for them. "Officials need to be better rewarded for good displays, just like the players are," he said.

Tovey believes "refereeing standards are getting better but crowd behaviour is getting worse." He pointed to the recent example of Lwandile Mfiki, an official who was attacked by a vuvuzela-wielding supporter.

He didn't mention that administrators are also flirting with violence. A member of TP Mazembe's support staff reportedly punched the referee in the Champions League qualifier against Orlando Pirates. In Kenya, a referee is suing the football federation after claiming he was attacked by a coach, who aimed at his private parts and has now left him impotent.

Fan and official reaction aside, the real measure of Africa's referees may be known when it is revealed how many of them are chosen to stand in the 2014 World Cup. Of the 52 on the shortlist, 21 are African and include representatives from the most obvious countries like Nigeria and Senegal, to what some may consider the obscure, like Eritrea and Burundi. From Friday, seven of them and 13 assistants will attend in a seminar in Casablanca which will cover topics like consistency in decision making and understanding different football mentalities.

It's not quite short sprints and laps, but it is the technical training many believe is required to improve standards of officiating. A combination of fit, healthy referees who also have sufficient background knowledge is the best way to do that and to prevent tragedies like what occurred in Burkina Faso from happening again.