Morocco's under-17s lead the charge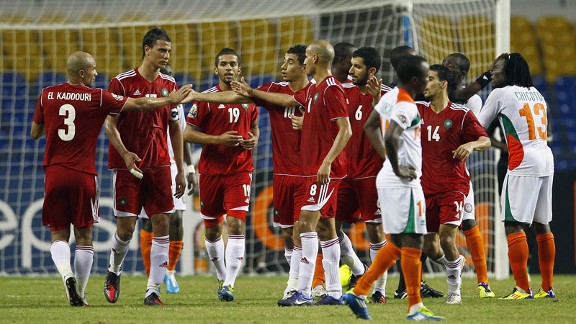 APMorocco's youth teams provide the country with hope after the disappointment at January's African Nations Cup
North Africa has laid claim to two of the continent's four spots at the under-17 World Cup as both Tunisia and Morocco stormed their way into the semi-finals of the African under-17 Championship. The two countries have recorded big wins over Botswana and Gabon and only have each other to play to decide who will take top spot in their group.

Their dominance bodes well for the game in the region, especially because the senior teams have been perennial underperformers. For the hosts, it is particularly important because their national teams recent form. Morocco exited this year's African Nations' Cup (ANC) in the first round; they are all but out of the reckoning for the 2014 World Cup; they have not qualified for the under-20 World Cup since 2005 and have never participated in the under-17 event.

This time, they are in the tournament by virtue of their hosting rights but their coach Abdellah Idrissi hopes they can use it to spark a revival as they look to the 2015 ANC. He is right in thinking a strong performance at age-group tournaments can be a catalyst for propping up the national team.

He need only look at Ghana and Nigeria, who both collected two titles at the African under-17 championship and went on to win the World Cup prior to their national teams enjoying success to know that development in the lower ranks is crucial.

So far, Morocco appear on the right road. They beat Gabon 4-1 and Botswana 3-0 to ensure they achieved their coach's first aim of getting to the semi-final. Idrissi said the team had done "everything possible to prepare for this championship".

He pointed to their full program of warm-up fixtures which included a 3-2 win over Niger immediately prior to the event: "Since 2011, we have played several tournaments and held training camps in Morocco and abroad, punctuated by friendlies against fellow African sides and division clubs and now all that is left is to find some consistency".

Many of the players have done that, especially as the Atlas Cubs showed attacking intent throughout. Bnou Marzouk and Hamza Sakhi have each netted three times. Despite their good form, they do not lead the race for the golden boot. That belongs to Success Isaac from Nigeria who contributed to giving the tournament its most goals in four matches since 1995. He netted four times in the Super Eaglets 6-1 over the Black Starlets from Ghana.

Isaac is from a state in central southern Nigeria, Edo, where he attended the football academy in Benin City. He was spotted while playing for them there. He has big dreams, not only does he want to play for the Nigeria senior team but break their goal-scoring record. His hero is the late Rashidi Yekeni, who he hopes to emulate.

"I've watched DVD's of all his goals and it inspired me to do the same," he told CAF online. "I also admire Samuel Eto'o. He has proved he can score goals at every club he has played at. I would like to be like him in that respect and use this tournament to prove that I am a striker."

While Isaac aims to end the tournament as the top scorer and Morocco hope to build on their start, the organisers' goal is to prevent age-cheating. MRI scans were reported to have been conducted on all players to verify that they are under the age of 18. The tests check the bone density of their wrists. They were first used two years ago in an attempt to curb the problem of teams fielding older players – which has increased and blighted the integrity of tournaments on the continent.