Conference must tackle thorns too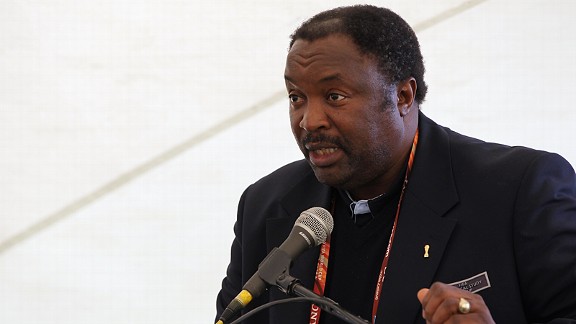 GettyImagesJomo Sono will speak at the conference
Real Madrid have the pressing matter of a Champions League semi-final on their minds, but while their first-teamers are preparing to try to conquer one continent, another part of their set-up is partnering with another.

The club's foundation is one of the official supporters of the third African Football Executive Confex, which will be held over two days in Johannesburg this week, and Real will discuss their programme in Africa on Wednesday. Their head of schools and clinics, and the director of the technical management camps, will be in attendance to elaborate on the foundation's work, which includes funding promising players.

Development is a major conference discussion point, with a segment dedicated to women's football and another to talent scouting. The latter will be delivered by Jomo Sono, who runs Cosmos Football Club in South Africa.

While improving the reach and quality of the game will be a leading theme, another focal point will be the business of football. Sponsorship dominates the agenda, with an examination of how to handle new age media thrown in. Both are important subjects for modernisation, and are crucial to the growth of the African game. But whether they have a place at this event needs to be examined.

The head of the Standard Bank Group and the head of Vodacom will discuss a how a bank or company approaches funding. Both these businesses have ploughed money into the game on the continent but, sadly, are minority and benefit only a few. Select countries and select clubs are sponsored. The rest get by, but only just.

In Sierra Leone recently, funds were raised through extra charges on mobile phones. In other countries, football relies on the generosity of the wealthy. Corporates stay away, either because they don't operate in the country at all or because they are wary of getting involved with bodies often suspected of flirting with corruption.

Until that suspicion disappears, it's unlikely that major sponsorship can exist across the continent. What goes on in the shadows is rarely discussed, and there is often too much at stake for that to change. But it would be a sign that things are going in the right direction if issues of corporate governance make it to a conference like this one.

The same needs to happen with the media endeavours. Africa wants to engage with the world on the platforms of today and will have Alex Balfour, the head of new media at London 2012, as one of the guest speakers to help them understand that.

Through his methods, they will reach the world - but where does that leave the people on the continent? Internet availability is notoriously sporadic in large areas. Most people get their news from the radio or newspapers, whose reporters can be hindered from doing their jobs because of censorship. The line of news often travels a twisted path.

Most football clubs now have their own media departments in an attempt to change this and, while what they produce will not be objective, it will at least be something.

Last year, one presentation covered the role of media and broadcasting in sport. It also advised African football associations to "improve relationships with the media", and create a "specialised PR position". Sound advice. What this week's conference should do is follow up on how many clubs have done that, and whether it has worked for them, before it moves on to more modern media.

In many ways, those two things are symptomatic of the wider issue facing the conference: while it looks to present a face of African football that is as clean-cut as anywhere else in the world, it avoids tackling some of the sticky issues. When it is ready to acknowledge and deal with those, the conference could make a real change on the continent.