Indomitable Lions not yet back on the prowl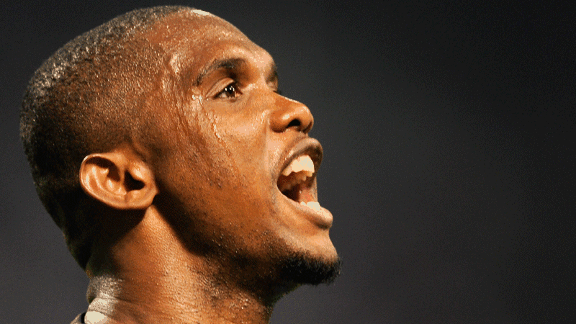 GettyImagesSamuel Eto'o scored both goals in Cameroon's 2-0 win against Togo
While all the noise is being made over Croatia's leap five places up the FIFA rankings to fourth place, there are cheers for the big movers in Africa too. Equatorial Guinea jumped 45 places to 59, their highest ever, while there was also good news for their neighbours Cameroon. They recovered from their lowest position, 79, and moved 19 spots, to 60.

To have one of the continent's top teams show signs of recovery is positive for the game in Africa, but it may not signal that the Indomitable Lions are on the prowl again. Their steps forward are the result of just one game really and truth be told, one man. Victory over Togo in a World Cup qualifier in March moved Cameroon up and they owe that solely to Samuel Eto'o, whose brace led to their triumph.

Prior to that win, Cameroon played a friendly against Tanzania, which they lost. Fourteen players withdrew from the fixture at the 11th hour, leaving the team in a precarious position and one that questions whether they are ready to forge the kind of change their movement up the charts hints at.

The evidence says they are not. Their recent form has dwindled. Cameroon did not qualify for either of the last two African Nations' Cup tournaments and even though they have appeared in six of the last seven World Cups, they have not shown any progress, receding from quarter-finalists in 1990 to group stage exits.

Their performance in Italy was long the stuff of legend, but it has also turned out to be one of the speed bumps on their road to improvement. In 2007, current associate editor of the New African magazine, Osasu Obayiuwana travelled to the country to investigate the state of their football. He was told this by former goalkeeper Joseph-Antoine Bell: "Cameroon continues to live in the faded glory of what we achieved at the 1990 World Cup finals. We are refusing to plan and yet we expect that with such an attitude, we can continue staying at the top. If we are not careful, we are on the road to becoming irrelevant in African football."

Bell's words sound haunting in hindsight. Since that interview, Cameroon hit lows such as losing all three matches at the 2010 World Cup in South Africa and missed out on the this year's ANC after being beaten by the tiny island nation Cape Verde. Their administration has been marred by allegations of non-payment, which lead to a player strike and then the suspension of Eto'o.

He has since returned to the fold but has remained critical of those who run the game. His most recent outburst included an allegation that officials want him dead. But he continued to contribute in the most significant way to the performances of the national team while the administrators continued to stumble over hurdles they erected themselves.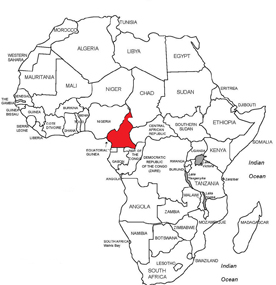 OtherCameroon, in west Africa
Just two days ago, they were in danger of flirting with suspension from FIFA after the country's sports minister threatened to block elections in the FA. The ministry wanted to conduct an extensive consultation into the voting process. They were concerned about the way officials were elected in the Littoral Region.

Doubtless some of their concern was over repeated allegations of mismanagement against president Mohammed Iya. Last Tuesday, as he was about to board to his flight to France, police confiscated his passport. He was reportedly quizzed about funds allocated to the FA and asked to explain what he had done with them over the last 14 years. The government are suspicious of the whereabouts of monies from broadcast rights and advertising and filed a complaint with the police in 2005, but the investigation has moved slowly.

The sports minister has since backed off and will allow elections to go ahead but has promised a consultation into the affairs of the FA will take place anyway. While the suits try to unravel the happenings behind the scenes, the team will continue to try and claw back respectability and book seats on a place Brazil-bound in a year's time.

To do that, perhaps the most important thing they need to do is stop living in the 1990s. But Cameroon bask in their old triumphs, so much so, that when they looked for a new coach in September last year they went to the man who led them to Olympic gold in Sydney 2000: Jean-Paul Akono.

He has been in the post for eight months and last week it was revealed that he still does not have a work contract. It is entirely unprofessional, but in a strange way, also a reminder that unless the team keeps moving up, he may be dispensed with because the past really does not matter anymore.