Mattsson, Williamson and the trouble at African FAs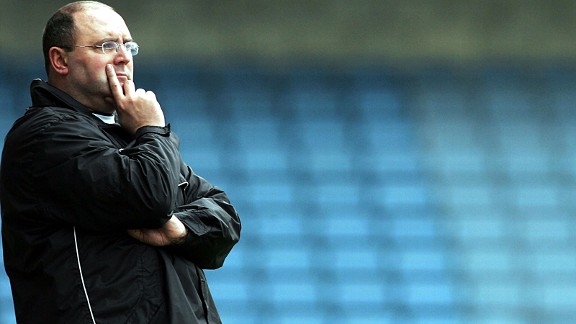 GettyImagesBobby Williamson has parted company with Uganda
Stephen Keshi must be giggling to himself. In the last two weeks, one foreign coach, Lars Olaf Mattsson, resigned from his post in Sierra Leone because it was "so terribly strenuous", and another, Bobby Williamson has been sacked from his job in Uganda. The Big Boss is in favour of local coaches over foreign ones and may feel this proves his point somewhat.

- Uganda sack coach Williamson

Neither Mattsson nor Williamson had good enough runs in World Cup qualifiers to justify their staying on, although Mattsson oversaw the team's rise of 66 places in the FIFA rankings and Williamson won four CECAFA Cups. They had some success, but not enough.

More tellingly, neither Mattsson nor Williamson could keep their heads above the sea of peripheral problems that threatened to sink the game in the country they worked in. Therein lies the real reason for the end of their tenures.

Mattson joked that he can "write many books", about his experience in Sierra Leone. Surely, all of them would have to include the word chaos in the title because he describes his tenure as being filled with it. Most recently, there were interesting scenes, at the World Cup qualifier against Tunisia. Mattsson revealed selection dilemmas until just before the opening whistle.

The team had not played a match since October so Mattsson was not sure what state of match readiness any of them were in. He contacted them by Facebook or email and eventually came up with a list of 25. Of those, 16 turned up in Tunis because the authorities had done away with "the players they wanted out".

One of those included was a young member of Chelsea's set-up, Aziz Deen-Conteh, who was due to make a maiden appearance for his country. His passport was expired and he did not have the relevant papers. It became clear to Mattsson that he would not be allowed to. Mattsson was furious that he did not even know everyone in the squad he was due to coach.

That was one of the many reasons he said the Sierra Leonean FA was "very, very difficult" to work with. The others are more obvious, even to someone who does not know what goes in the changingroom: the league has yet to restart in the country and the scheduled election to appoint a president has not taken place. Mattsson warned that the national team cannot go much further than where they are now under circumstances like that.

Williamson has not had a chance to say whether he feels the same way, but Uganda's structures are barely better. Former player David Obua explained that for as long as they run two parallel leagues instead of one, it will be difficult to get the best of the country's talent. He told local media that "with the same disorganised status quo", firing the coach is not going to solve anything.

Former coach Mike Mutebi pointed to a lack of a functioning youth system, with the only pipeline in existence coming from the schools. While students are being paid to play for educational institutions, the league is left to languish and infrastructure is in dire straits. Like Mattsson, Williamson did not have much to work with.

Perhaps even a local coach would not fare very well under those circumstances. Perhaps they would, because they would understand the challenges better. Perhaps all it does is present a roadmap for when a country could look to appoint a foreign coach and when it would be better to navel gaze first.

A foreign coach is at an immediate handicap because of his lack of local knowledge. This is a point that has been debated at length and Keshi did not complain about that. He said "mediocre" foreign coaches "degrade" the game. While this writer will not put either Mattsson or Williamson into that category, a brief glance at their list of achievements reveals that they are no Jose Mourinho or Alex Ferguson.

Coaches like that, who have achieved unprecedented success don't often have Africa on their bucket list and that is the problem. If those managers and their skills were confronted with the dysfunctional situation that Mattsson and Williamson had to put up with, would they far any better?

One day, when one of them ends up on the continent, we may find out. But we would far rather have the FAs clean up so that even someone who is not a Mourinho or Ferguson, or local or foreign, would have enough support to have the best chance at doing their job properly.