Want to deal with corruption? Ask FIFA first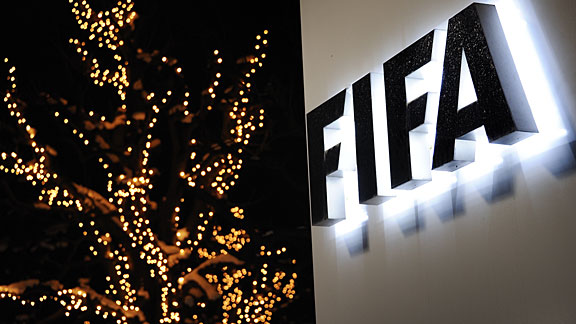 GettyImagesFIFA has made it quite clear that it is in charge
Ask around about the major problems hindering Africa's progress and you're likely to come up with the same set of answers. Corruption is chief among them.

When someone tries to do something to uncover and punish the spread of exploitation and fraud, it should be supported, especially if that someone is acting in an official capacity, right? Wrong.

FIFA has sent the South African government a written warning that its football body could face sanctions if a judicial inquiry on fixed matches played ahead of the 2010 World Cup takes place. World football's governing body would view such an act as government interference, something they are decidedly against.

The matches in question were already found to have been fixed by way of referee bribes and the task ahead is now to identify the wrongdoers and discipline them. FIFA would prefer that the South African Football Association (SAFA) deals with the matter itself and does not involve any outside source in the investigation.

FIFA's parameter is not that unreasonable, especially because governments are not free from misconduct themselves, but their disregard for due process and inability to recognise when a state authority is offering a viable solution is worrying.

Consider this situation: as much as SAFA is part of FIFA, it is also part of the South African Sports Confederation and Olympic Committee (SASCOC) which governs sports bodies in South Africa. SAFA went to the countrys themselves and asked for a judicial inquiry into the tainted fixtures.

Because such an investigation requires the services of a retired judge, it can only be convened by the president. So SASCOC had to approach the country's sports minister, Fikile Mbalula, to ask for his blessing. SASCOC acted on behalf of SAFA who wanted the government's help.

When SAFA learnt of the threats it would face from FIFA, it backtracked on the initial request. Instead of a judicial inquiry, SAFA will now settle for an independent investigation only. FIFA would welcome this, despite the disadvantages of the lesser approach. A non-judicial commission will not be able to subpoena witnesses, its findings do not have to be accepted and its suggestions can be ignored.

Mbalula is against having such a lightweight investigation and his reasons appear solid. He believes the state should be involved because the allegations may also amount to a crime in their own books. "Matchfixing is about fraud, corruption and mismanagement. There is a rule of law in South Africa. Where there are suspicions of people have taken a bribe or other unlawful activities, they must be investigated," he said.

He will travel to Zurich this week to try to convince the football bosses that allowing a judicial inquiry will be to everyone's benefit. Mbalula has already found support in many circles, especially because FIFA comes across as reluctant to take serious action where it is merited.

A case in point happened in the same week as they scolded South Africa for the government interests in the match-fixing scandal. FIFA also nullified the bans handed down by Zimbabwe's FA (Zifa) following the Asiagate scandal, effectively opening the door for them to resume careers in the sport.

Last year, Zifa banned 15 people, including the former captain Method Mwanjali and coach Sunday Chidzambwa for life. They also sanctioned and fined 80 other players and administrators for periods ranging from six months to five years for their involvement in fixed matches during Zimbabwean visits to the East. FIFA overturned all of these penalties.

They claim Zifa acted "outside football laws" in making their rulings, because they used a preliminary findings to make their decision and did not furnish FIFA with a full transcript of their disciplinary proceedings. Zifa has had over six months to get the documents to the governing body and it has not done so.

While no football body should be able to get away with neglecting administrative duties, the ease with which FIFA dismissed the attempt at corrective measures is disturbing. FIFA has legitimate concerns: Zifa is going through financial struggles and the money raised from fines would have played a part in easing that, which may have resulted in penalties being laid on too easily. The monies will now be repayed and Zifa will continue to battle with reputation management.

But so will FIFA. Questions will continue to be asked about whether they are serious about rooting out corruption? On the evidence of their behaviour in the last few days in Southern Africa, it does not seem so.