Pharaohs climb the pyramid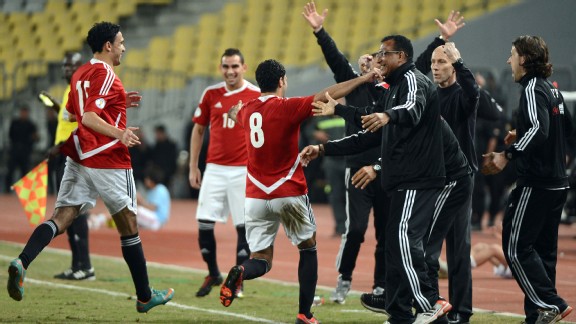 GettyImagesEgypt moved five points clear atop Group G with a late 2-1 win over Zimbabwe
Egypt's new priorities are working. The shift in focus from dominating the continent to making a mark globally that coach Bob Bradley introduced after he took control in 2011 is bearing fruit. Egypt have consolidated their place at the top of their World Cup qualifying group thanks to a last gasp 2-1 victory over Zimbabwe on Tuesday night and are well-placed to reach Brazil 2014.

They had one of their favourite sons to thank for the triumph. Mohamed Aboutrika netted from the spot two minutes from time after Hosny Abd Rabou's opener was cancelled out by Knowledge Musona. Only 10,000 people were allowed into the stadium in Alexandria with officials on high alert following the Port Said stadium disaster last year but they witnessed an important win - one that has all but cleared the way for Egypt to compete in the final round of African qualifying for the 2014 World Cup.

With nine points, they are one of only three teams to have won all their fixtures so far. If they remain on the same course, they will move to the two-legged playoffs against another group winner and will back themselves to qualify for their first World Cup in 24 years.

Yes, it has been that long. The last time Egypt played on the biggest stage was before they began dominating the African Nations' Cup to become the competition's most successful team, with seven titles. At the Word Cup it has been a different story and in 1990, they were eliminated at the group stage in Italy, a disappointing result considering their reputation. They went on to be crowned continental kings in 1998, 2006, 2008 and 2010.

Africa's giants have been minnows in global terms and they are determined to change that this time. Clay Frost, a producer working on a documentary entitled "We must go", a film which seeks to explain Egypt through football, told ESPNFC's Football Africa that in the extensive interviews he and his team have conducted, most people agree that Egypt's lack of success outside the continent is simply the result of targeted planning.

"Many people have told us that it's a matter of focus and prioritising. The ANC cycle is shorter, so it's easier to lay out what needs to get done to do well in that tournament," Frost said. With an ANC played every two years instead of every four, the logistics of managing an ANC campaign would seem easier.

But Bradley has brought an outside view and his scope is wider. "Since day one, he has said the team has one goal: qualify for the World Cup. The message is always the same," Frost explained. "The talent has always been there, so with the team united by one goal; the road could lead to Brazil."

That seems a reality now. Even though Egypt were pushed to the brink, Bradley called the challenged Zimbabwe posed, "natural," because "no team qualifies easily for a World Cup." He was impressed that the experienced players, such as Aboutrika, contributed to the win because it illustrates that they are geared up for bigger challenges.

Despite the revolution, the suspension of their football league, non-qualification for the last two ANCs and the tragedies that have marred the game, Egypt are still on firmly on the road to Brazil. And it's not the only place.

Their Under-20 squad has advanced to the final of the CAF U20 championships after an unbeaten run at the competition in Algeria. They will play Ghana, who they already beat 2-1 in the group stage, on Saturday. The young Pharaohs have been written up as having some of the most promising players at the event and were the first to qualify for the U20 World Cup from this event.

Their coach, Rabiea Yassin fumed at scouts from Europe who have pursued some of his players too aggressively and who, he says, are disrupting their preparation for the final, but it's clear he has talent in his ranks. The joint-leading top-scorer Mahmoud Abdel-Moneim netted twice against Nigeria in the semi-finals, while they also have many youngsters from Al-Ahly, Zamalek, Ismaily and ENPPI who will all be looked at as ones to watch for the future.

In Tuesday night's other African World Cup qualifier, Algeria beat Benin 3-1 to also finish top of their pool. Algeria have qualified for three World Cup's in their history, with the most recent appearance being in South Africa in 2010 but they have never made it to the second round.