Africa's road to Brazil: Champions humbled, talisman steps up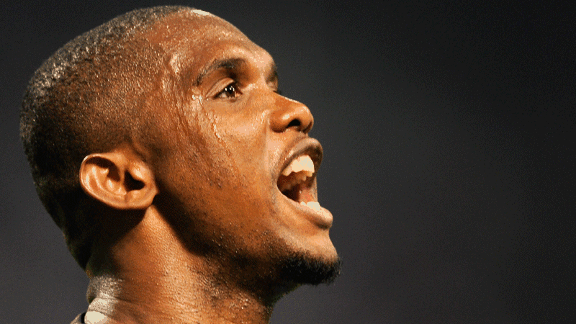 GettyImagesSamuel Eto'o scored both goals in Cameroon's 2-0 win against Togo
In part two of the wrap of Africa's World Cup qualifiers, Nigeria's Super Eagles were held to a draw, Samuel Eto'o kept Cameroon ahead of the rest and Senegal struggled, yet again.

- Part I: Big winners and big surprises

Group F
Namibia 0-1 Malawi
Nigeria 1-1 Kenya

Namibia were one of the few teams to lose at home and their defeat to Malawi in Windhoek resulted in much finger pointing. The coach Bernard Kaanjuka refused to address print media afterwards, telling them that they write "nonsense" about him.

He did, however, talk to NBC and a reporter revealed he blamed his players for not following instructions. If that was the case, it showed. Namibia lacked organisation against a well-drilled Malawi side, who have drawn level on points with Nigeria.

Stephen Keshi's magic touch did not extend to inspire his team to continue their run following their victory in South Africa. Kenya were on the cusp of a historic win when they took the lead through Francis Kahata and held onto it until injury time when Nnamdi Oduamadi put the Eagles on level terms. The hallmark of Kenya's game was their central defence and the efforts of their goalkeeper Origi who did everything from hold off a freekick from Sunday Mba to save a shot from Victor Moses. They had their new coach, Adel Amrouche, sent off and they looked like they had overcome all odds before Nigeria broke their hearts.

Group G
Mozambique 0-0 Guinea
Egypt v Zimbabwe - Tuesday

The scene is set for Egypt to firm up their lead at the top of this pool when they host Zimbabwe on Tuesday. Egypt have six points from the two wins they have already racked up and a third would make them the only team other than Tunisia and Congo to have accumulated nine points.

Guinea and Mozambique posed little threat as they contested one of two goalless draws in the round. There were few chances in their match, which reflected in its result.

Group F
Rwanda 1-2 Mali
Algeria v Benin - Tuesday

Rwanda would have fancied their chances of causing a surprise after they took the lead over Mali in the first half. Ugandan-born striker Meddie Kagere gave Rwanda the lead in the 37th minute and they held onto until after the break. Injury-hit Mali responded well. They scored two goals in the space of five minutes with Mahamadou Samassa and Abdou Traore ensured they took the lead and held onto it until the end.

Algeria could draw level with Mali to turn this pool into a two horse race if they beat Benin on Tuesday.

Group H
Cameroon 2-1 Togo
DRC 0-0 Libya

Cameroon leapfrogged Libya to take the lead in Group H thanks to their talisman Eto'o, who scored both goals in their win over Togo. Despite claims that the Cameroon FA wants him dead, Eto'o accepted his call up and performed to expectation and beyond.

He gave Cameroon the lead from the penalty spot but David Wome equalised in first-half added time to ensure the match was evenly poised at the break. Eto'o broke the deadlock eight minutes before the final whistle with a classically, sublime curling shot. Togo were without Emmanuel Adebayor, who went AWOL before the fixture.

A win for Libya over the feisty DRC would have seen them restored to top spot but they played in a frustrating goalless draw. DRC looked the side more likely to take the lead throughout and they had a golden opportunity when they were awarded a penalty but goalkeeper Mohamed Nashnush was Libya's hero.

Group I
Senegal 1-1 Angola
Liberia 2-0 Uganda

Senegal maintained a slender lead at the top of the group but would be disappointed with their draw with Angola in neutral territory. Senegal looked likely to break their victory drought, which has extended since September, when Moussa Sow scored after 38 minutes. Angola equalised through Amaro but neither Demba Ba nor Papiss Cisse could put in a telling performance to give Senegal a win.

They are being closely tagged by Liberia, who beat Uganda thanks to a header by Patrick Wureh and a second goal from Anthony Laffor. Monrovia have now dealt the Cranes a second defeat. They also lost 2-0 there in 1999 and are at the bottom of the pool.