Africa's race to Brazil -- Part II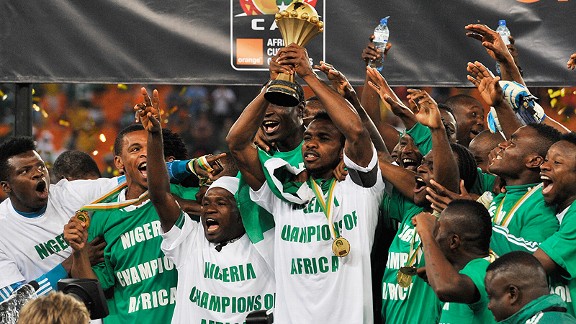 Issouf Sanogo/AFP/Getty ImagesAfrican Nations' Cup winners Nigeria resume World Cup qualifying with a home date versus Kenya.
The other five groups in the World Cup qualifiers include the current continental champions, the most decorated team in Africa and three countries who did not make it to the African Nations' Cup -- Senegal, Cameroon and Libya -- that will be conscious of the reputations that they have to keep up.

- Africa's race to Brazil -- Part I

Group F

Leader: Nigeria

Seldom does an ANC champion make it to the World Cup and Stephen Keshi's big task will be to ensure Nigeria are there. After the drama of his resignation following the victory, Keshi has recommitted to the Super Eagles. He recalled Obafami Martins for the Kenya match and left out captain Joseph Yobo, but still has a strong squad at his disposal.

Kenya, too, have their big names led by Celtic's Victor Wanyama. Under new coach Algerian Adel Amrouche, Keshi has warned that Kenya will be dangerous and it seems the hotel staff in Calabar heeded that warning a bit too closely. They decided to do their bit for the national cause and greeted the East Africans with not have enough rooms and beds to accommodate two players each. Kenya lodged an official complaint with CAF and FIFA about the sub-standard welcome.

The other fixture in the group is the far less glamorous encounter between Namibia and Malawi. The teams are placed second and third and a win for either would help them to continue tailing Nigeria.

Group G

Leader: Egypt

The Pharaohs now have a functioning league from which to pick players, something they lacked in the aftermath of the revolution and the Port Said stadium disaster. They are also on track to qualify for the World Cup and have picked an experienced squad for what is seen as an easy match. On the park will be the likes of Mohamad Saleh, Mohamad El-Neny and Hull City's Gedo while Zimbabwe will be headlined by Knowledge Musona. Egypt play Swaziland in a warm-up match which was moved from Cairo to Alexandria, the venue of the qualifier, at the 11th hour in preparation.

Also in Group G, Mozambique host Guinea in Maputo and must win to keep any hope of playing in Brazil alive. Both teams will rely on foreign-based players to lead the way. Mozambique will field Portugal-born goalkeeper Ricardo Compas while Guinea have selected twins Florentin and Mathias Pogba, whose brother Paul was picked for France.

Group H

Leader: Benin

It will come as a surprise that ANC's third-placed team, Mali, also lie third in this pool. They have a chance to change that against Rwanda but have been hit by a spate of injuries going into the game. Midfielder Samba Diakite, goalkeeper Mamadou Samassa and two uncapped players, Bakary Traore and Abdoulwahit Sissoko have all withdrawn through injury. Mali will still fancy themselves especially after Rwanda lost 1-0 to Libya in a friendly earlier in the week.

Benin, who top the group, will be in Blida to play Algeria in what will be a tough test. They have called up Zamalek striker Razak Omotoyossi to help bolster their chances of staying on top but indicated before the match that they would even be happy with a draw. Algeria, by contrast, promise to go all out to try and leapfrog their opponents into top spot.

Group I

Leader: Libya

While the two marquee teams battle out at the bottom, Libya and the DRC will tussle for the top of this pool. Libya lead the log having beaten Cameroon already and are reportedly going all out to ensure they qualify for a first World Cup. They are courting former Egypt coach Hassan Shehata and hope to have him put pen to paper soon. The DRC were one of the better performers not to progress at ANC 2013 where they played a vibrant brand of football and showed they have what it takes to play with the big boys.

Two sets of nearly men will compete in what is probably the clash of this round of qualifiers. Cameroon and Togo both have work to do after Cameroon missed out on ANC and Togo did not perform as well as expected but both have problems. Cameroon are without defenders Aurelien Chedjou, Dany Nounkeu and Benoit Assou-Ekotto with the former two injured and Assou-Ekotto being left out for personal reasons. Missing in action for Togo is Emmanuel Adebayor who did not arrive in camp on Tuesday and is seen as crucial to the team notching up their first win in the qualifiers.

Group J

Leader: Senegal

When Senegalese supporters rioted during a playoff match for the 2013 ANC, CAF imposed a ban on the team, so the top-placed squad in Group J will host Angola in neutral territory. The match will be played in Guinea and they have made no secret over the concerns about the pitch. Coach Alain Giresse called it a "real handicap", but will have Demba Ba and Papiss Cisse to help him overcome that. Angola were underwhelming at ANC and coach Gustavo Ferrin is under pressure to produce, especially as Angola have only drawn their previous two matches.

After the heartbreak of missing out on the ANC in a penalty shootout with Zambia, Uganda are determined to make it as far as they can in World Cup qualifying. They take on Liberia in Monrovia and their first worry is that they battle to win away from home. The second is that Anthony Laffor, Dion Williams and Francis Forkey Doe are back for Liberia after a disagreement with their FA and bottom-placed Liberia are desperate for some points.