From Brazzaville in the Congo, one only needs to look over the river to see Kinshasa in the Democratic Republic of Congo. The second-longest body of flowing water in Africa, fittingly called the Congo River, separates them.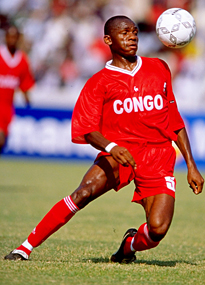 GettyImagesCongo's Camille Oponga in action at the 2000 African Nations Cup
It divides more than just two countries and two cities that were ruled by two different colonial powers. Some look over from one side and see opportunity, democracy and hope in the other. Footballers on the Brazzaville side may look across and see success, perhaps even the kind they would love to enjoy themselves.

The DRC is home to one of the most successful clubs on the continent, TP Mazembe, have won the African Nations' Cup twice, were once ranked as high as 51 on the FIFA ladder and were the first sub-Saharan country to qualify for the World Cup. Slowly, the Congo is catching up.

The nation, known as French Congo up until 1960 and then the People's Republic of the Congo until 1991, also have a club competing in the Champions League, a continental crown to their name, were once among the best 60 teams in the world and now, sit on top of their 2014 World Cup qualification group. The process of qualifying for Brazil 2014 is still in its early stages, with only two of six matches played, but it's a start that Congo can take heart from.

So far, they have won both their fixtures even though one of the victories was unconventional. Their goalless draw against Burkina Faso, who are the strongest opposition in the group on paper http://espnfc.com/team/_/id/4276/congo?cc=5739, was turned into a 3-0 win for Congo after the Burkinabe fielded an ineligible player and FIFA intervened. Congo followed that up by beating Niger 1-0. This weekend they play 2012 ANC co-hosts Gabon at home and are confident of widening the gap between themselves and the chasing pack.

At the helm, they have a new coach overseeing affairs. Kamal Djabour took over from Jean-Guy Wallemme, who resigned to concentrate solely on Auxerre, in October last year and hopes his experience with clubs in Mali and Benin will help him in his task of taking Congo to their first World Cup.

The most obvious thing about Djabour is his sense of reality. When he spoke to FIFA.com he made it clear he understood it would not be easy to make it out of the group stage, even though Congo are ahead. "The goal is to continue to progress, to move forward. Like other teams, we would like to qualify for the World Cup, but we are still far away," he said.

"There are many selections stronger than ours that are also seeking qualification, but we will try to go as far as possible. It must not be forgotten that the Congo is a small country, and it does not have a large pool of players. We can learn from the progress that has been made in recent years by Cape Verde."

The islanders' have a population of just half a million but qualified for the ANC quarter-finals last month. Congo have almost ten times that many, at close to five million.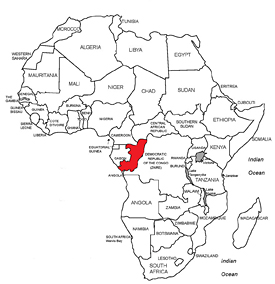 A more pressing concern is that of the structure of the domestic league, which has not yet restarted so only Congo's overseas based players have any match practice. "The championship last season was split into two groups of fourteen teams, which in my opinion is not ideal for Congo, or the two teams AC Leopards Dolisie and Diables Noirs that have proven themselves better than the others," Djabour said.

The other side of that coin is that Leopards, in particular, have done an important job in representing Congo on the continent. They won last year's CAF Confederations Cup to give the club a first title in 38 years. Cesaire Gandze, who opened the goal-scoring in that game, is part of Congo's national set-up, as is defender Chancel Goumbessa.

Leopards are competing in this year's CAF Champions League but suffered a hefty 4-1 defeat to Nigeria's Kano Pillars in the first round of qualifying. Its results like that which explain Djabour's claim that the country is not exactly where it wants to be, but is steadily improving. "The team has not qualified for the Cup of Nations since 2000. But we still feel that Congolese football is on the right track," he said.

Still, their current position in World Cup qualifying in unexpectedly good and Djabour hopes to capitalise on that for as long as he can. "We can have ambition in a group that includes teams that have more experience than us," he said. "We want to continue to dream."