Ivorians overcome favourites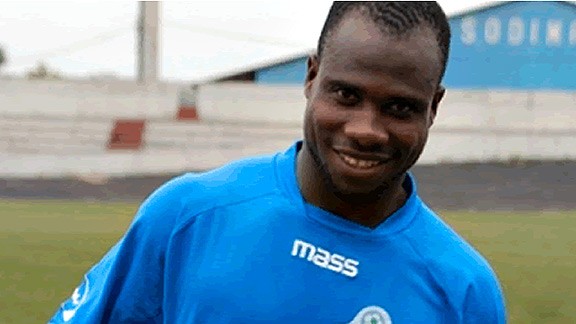 Westafricanfootball.com Koelly Kevin Zougoula of Sewe Sports scored in the Ivorian club's surprise 4-1 victory over Al-Halil in the CAF Champions League.
Al-Ahly, Zamalek, TP Mazembe, Esperance and Kano Pillars all took expected leads in the first round qualifying of the CAF Champions League. But there was one slight surprise when Al-Hilal suffered a hefty 4-1 loss to Sewe Sports.

The margin of the Ivorian club's victory did not suggest they were a side that has played in the Champions League only once before. It also was not a performance worthy of the Sudanese side that is a product of Africa's highest ranked league and has been a regular in the Champions League with 12 appearances, including nine consecutive ones since 2004.

For Sewe, it is a reward for a year's worth of steady improvement that saw them win the premier division for the first time last season and who are now pushing for higher honours. They will still have a big task on their hands when they head to Omdurman in three weeks' time but they have shown they are up for it.

Football Africa takes a closer look at the men who play for the club and the one who scored two of their four goals -- Mandela Ocansey -- a Burkinabe player who was born in Ghana and schooled at the Feyenoord academy in Rotterdam.

Ocansey is only 23 years old and was still a teenager when he moved to Burkina Faso's capital Ouagadougo. He played for ASFA-Yennenga for three seasons from 2008-2009. He ended the first two as the leading striker for the club and won the championship in all three seasons he was there.

Naturally, he caught the eye of the officials in Burkina Faso and was asked whether he would consider naturalising. He accepted and has since represented both the under-23 and the senior side, although he was not part of either of their recent African Nations' Cup campaigns.

He was courted by the Ivorian club when they looked to bulk up their stocks ahead of their title defence but until this match had not made much of an impact for them; he has only one league goal to his name. This could be the start for the small but stocky player who has based his game on good control and an excellent dribbling ability.

Koelly Kevin Zougoula makes up the second half of their attacking combination. He also netted against Al-Hilal and has been impressive in the league as well. His finishing skills merited his recent call-up to the national squad with the only disadvantage being that no one really knows how old he is. His birth year has been registered as both 1984 and 1988 so at least it's confirmed he is in his 20s.

Another player who has recently been rewarded with a chance to play on the international stage is goalkeeper Sylvain Gbohouo. He is called the best gloveman in the league, and although he will compete with Boubacar Barry for a place in the team, he will bank on his domestic experience to earn him some game time in the future, even if not at this weekend's World Cup qualifiers.

What makes Sewe Sports' prospects for the future seem bright is that they are powered by youngsters who play for national under-20 sides. They are not competing in the CAF Championships taking place at the moment and so were available to their club side, much to their benefit. They include Roger Assale, the man who opened the scoring against Al-Hilal, Rostand Kako, a Cameroonian who also makes up their strike force, left-back Cedric Kouadio N'goran and centre back Adama Ousmane Outtare.

It means that even if 2013 is not their year, they have a steady supply to ensure the next few can be ones in which they challenge in both their own country and the continent as a whole.