Eto'o: European milestone, African heart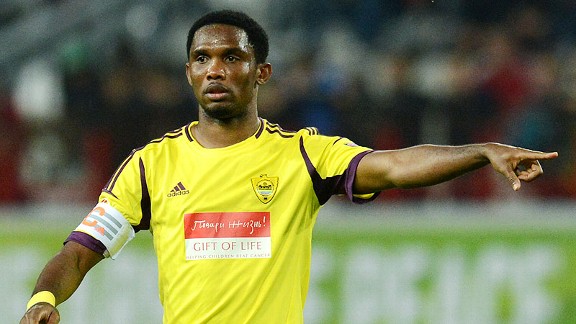 KIRILL KUDRYAVTSEV/AFP/GettyImagesSamuel Eto'o has never forgotten his African roots while experiencing major success across Europe.
Samuel Eto'o is already established as Africa's best football export. His 100th European appearance tomorrow will only confirm it.

He is the first player to win two European trebles -- with Barcelona and Inter Milan. He scored 108 goals for the former, including some against rivals Real Madrid who rejected him in his youth. He is the only player to have scored in two Champions League finals and he has won three medals from the tournament to add to his four league titles.

He is widely accepted as a great but when Russian club Anzhi agreed to pay him £1.5 million a month after tax it was considered obscene. They may be able determine whether they got their money's worth on their performance in the Europa League and Eto'o's history suggests he could guide them to the trophy. He has netted 44 times in 99 appearances on the continent and is known for a predatory ability to create and score goals.

Still, some argued, surely footballing success should not cost that much? Perhaps not. But for all Eto'o's money-making and all the stories of his attitude problems, he is a giver. To Africa, he gives the most.

The Samuel Eto'o foundation was started in 2006 when he still played for Barcelona, who partnered the football academy aspect of the charity. It is about much more than just the game.

Having grown up in "very humble" circumstances, where his mother had to wake up at 3am daily to buy fish at the port to resell, Eto'o understands funding a sports project cannot be done in Africa without funding entire lives. To cover all those needs, his scheme also provides healthcare and education for children and has expanded to other parts of the continent.

Last month, Eto'o was in Guinea where he inaugurated a new training centre and explained some of his future development goals for the continent. Eto'o pledged to continue to support the growth of the game, to focus on places where there is political stability and to campaign for better organisation of the African game -- something he has long lamented with his home country, Cameroon.

Central to Eto'o's belief is that "Africa has the potential to win a World Cup but must have a base." He hopes to provide some of that through his story and his wallet.

Eto's's journey alone is a source of inspiration to many. He is the embodiment of self-belief, dedication and ultimately, success. In an interview with Africa Top Sports he stressed that everything he has, and it is a lot, has come through nothing but toil. "My dream when I was younger was that my parents could watch me on television," he said when asked what advice he would give to hopefuls.

"I grew up in a family where my father always told me, defend your ideas when you think your ideas are good and struggle to get your story written. And I've always fought for that. My dream was to become a footballer, hope to become the best someday. And I worked for it. And I'll tell you that the work is the magic of success."

The next star, according to Eto'o, could come from anywhere -- as he did. That does not mean he is willing to spend his money anywhere. His own experience with Cameroon has influenced his thoughts on administration. Eto'o would prefer to plough cash into places where it will be well administered. "In all things, you need a good organization. You can have the best player in the world, if you do not have the best team, you will not win," he said. "The organisation should be good enough to allow this team to emerge."

His most recent investment took place in Kenya, which, until very recently was regarded as one of the most stable democracies on the continent. While human rights remains a major controversy in Guinea and recent violence would defy Eto'o's logic, he said he found the capital city, Conakry, much like the capital of his own country. He has also met with the country's president and believes he has the leader's understanding.

Even if Eto'o's funding is not directed where others deem to it transparent enough, few will fault his noble intentions and the impact it could have. When considered in the context of the cash Eto'o earns, it indicates that his heart remains at home even though he stays in hotel rooms which cost more a night than some people in his homeland earn over the course of an entire year.

"I am a child of Africa," Eto'o said and attributed the millions he has pocketed as a symbol of success to the continent as a whole. "It is recognition to Africa. It is a victory for Africa. To become a footballer, there are many sacrifices. You must always be thinking about being the best. And when you are among the best, you get the salary that goes with it."

Eto'o can be considered proof of that.