Pirates African adventure continues - as do others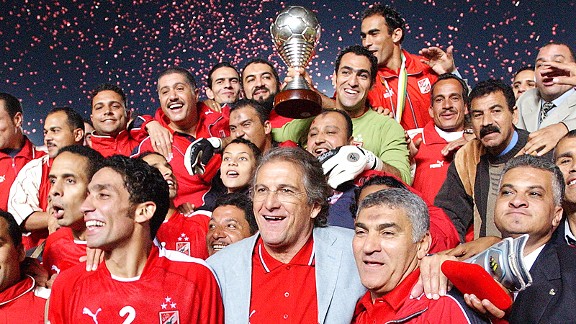 GettyImagesAl-Ahly won the African Champions League last year
Being too soft. To be blunt, that is the main reason South African clubs have not enjoyed more success in continental competitions.

The administrators decorate it using words like "logistics", to blur the lines to explain their failings and the fans sympathise. Occasionally someone remembers that hours of flying, unfamiliar conditions and sub-standard facilities have not hampered other teams, particularly those from North Africa. Maybe it is time to accept it for what it is: players of the South African Premier Soccer League get used to doing things a certain way and become uncomfortable when that changes.

To paper over that, tournaments like the CAF Champions League were not given much attention from the southern tip. With only two winners – Orlando Pirates in 1995 and Kaizer Chiefs in 2001 (in the African Cup Winners' Cup) – interest has been minimal and intent less so.

Now Pirates are back in contention and seem to mean business. Last year, they competed in the CAF Champions League but were eliminated at the first hurdle – preliminary qualifying – to Angolan side CRD Libolo. As a sign of how seriously they took that defeat, Julio Leal, the coach, was sacked.

Already, they have gone a step further. They thrashed Djabal, a club from the tiny Comoros Island, 9-0 on aggregate to emerge as the biggest winners out of the initial stage of competition, despite the difficulties.

In fairness, Pirates did not have to do too much on the island, having beaten Djabal 5-0 at home two weeks ago. Still, they took the task seriously especially after being booted out of the Nedbank Cup (the local version of the FA Cup) by minnows Maluti FET College FC.

They chartered their own flight to avoid an extra travel day that would have been needed if they had gone on a regular, commercial route. Although they left behind national team player Oupa Manyisa to give him a rest, they took a "solid" team, in the words of coach Roger de Sa, because they did not want to leave anything to chance.

On an artificial pitch that they only trained on once before the match and in searing heat, they managed two goals in the first eight minutes to put the end result beyond doubt. They had the energy for two more to leave Djabal looking the smaller brothers they are and set up a date with Zambian champions Zanaco in the next round.

Pirates will look forward to the next phase. Zanaco play in Lusaka which is not as foreign as Iconi, where Pirates played against Djabal, while the Zambians scraped through. Swazi side Mbabane Swallows netted twice against them at home but their 3-2 win there was enough to put them through after they saw out a goalless draw in the second leg. Already, the South Africans have begun their homework with their assistant coach Tebego Moloi in attendance to track their next opponents.

Theirs is not the only first round fixture worth keeping an eye on. The big guns appear in this phase of the competition, with some of them having enjoyed a bye in the earlier round. Defending champions Al-Ahly may view their draw as kind after being paired against Kenya's Tuskers, although the East Africans enjoyed a 7-1 aggregate victory over St Michel from the Seychelles.

The other Egyptian team in the tournament, Zamalek, take on DRC's AS Vita. TP Mazembe will play Botswana's Mochudi Centre Chiefs, who did away with Mozambican league winners Maxaquene. Kenyan champions Asante Kotoko, who advanced with an 8-0 aggregate win over Equatoguinean side Sony Elá Nguema, will play Algeria's JSM Béjaïa.

Another side to watch are Coton Sport who will take on Ivorians AFAD Djékanou. The Cameroonian side needed a penalty shootout after holding on for two goalless draws against Ugandan club URA, a team they would have been expected to beat. Like the Mbabane Swallows, URA were on the cusp of slaying a giant but the East Africans were denied on penalties – having suffered the same heartbreak to keep them out of the 2013 African Nations' Cup.