Football Africa: Like father, like son - sometimes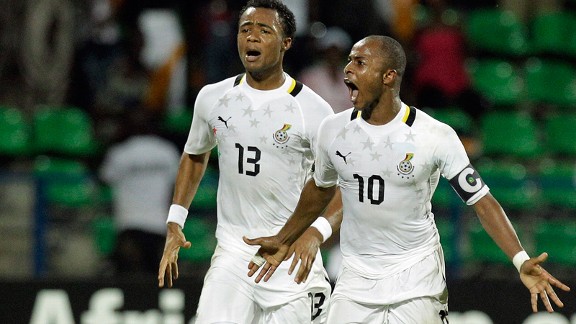 PA PhotosAbedi Pele's sons Andre and Jordan Ayew have quit Ghana
Among the many things that make up Abedi Pele's legacy are his sons. Andre, Jordan and Ibrahim were thought to be the men that would shine brightly in Ghana's galaxy of Black Stars just like their father did.

- Ayew brothers quit Ghana

On Andre was laid the most expectation. He signed with Marseille, the club his father played such an integral part in, at the age of 16 and seemed set for a future in France before being called up to the Ghanaian national squad by Claude le Roy. From there, his destiny lay in the land of his genes and he captained Ghana to glory in the 2009 Under-20 World Cup.

He, and his brother Ibrahim, were part of the World Cup squad that reached the quarter-finals the year after that. He was named the BBC's African Footballer of the Year for 2011. His younger brother Jordan looked headed for similar accolades.

Their paths, like that of many players, were not completely smooth. Andre was left out of the 2013 African Nations' Cup squad, Jordan only made intermittent appearances, Andre was believed to have experienced disagreements with management, while Jordan felt overlooked in favour of more experienced players.

Both didn't like the awkwardness of what they were going through because they felt they deserved better. In a dramatic twist, both withdrew their availability for the national team in a temporary retirement from international football.

Their decision is not ground-breaking. One need look no further than Emmanuel Adebayor as an example. Ghana's captain Asamoah Gyan did the same. Andre explained the reasons behind their withdrawal from international competition in a very similar way to how other players have justified the same and, like them, he hinted at a return.

He said issues with management "affected me emotionally and psychologically such that I am unable presently to offer the best of my services to my dear nation," and went on to indicate he would return a better player. "Some of my colleagues who have previously taken such decisions have returned more strongly and with vigour to serve the nation."

Put simply, it's a tantrum. It's the Ayew brothers telling the Ghana FA that things must change to suit them. It's an ego trip which could be the result of an overload of talent which is obvious in the family or caused by the power that comes with reputation. They may find that having a big name is sometimes just that.

George Weah Junior learnt all about that. His father, the great Liberian striker who was named FIFA's player of the year in 1995, blazed his most telling trail at AC Milan. His son did not enjoy the same good fortune. Although he was part of the youth set-up at the Italian club and represented the United States at Under-20 level, Weah Junior was released by them without ever gaining a senior contract because of the frequency of his injuries.

He went on trial at Slavia Prague and was not offered a contract, tried his luck in Switzerland, where he played for a season, moved on to Germany and then Bulgaria. Currently, the 25-year-old is a free agent.

A famous son who had slightly more success in Italy was Pierre-Emerick Aubameyang, the son of Gabonese legend Pierre Aubameyang. As an 18-year-old, Pierre-Emerick was part of the AC Milan's youth structures and was the top-scorer in a youth tournament in which they finished fourth. But he only made two starts for the club and was soon on a European loan swirl, spending time at Dijon, Lille and Monaco.

He eventually found a home at French club Saint-Etienne though where, in his first season, he scored 16 goals and notched up 11 assists. He was the star player for the co-hosts at the 2012 African Nations Cup and has been credited with playing an instrumental role in his club's march up the Ligue 1 table. They lie fifth and are challenging for a Champions League spot, which could put Pierre-Emerick even further in the spotlight. His father now has reason to be very proud.

There are many African sons who are aiming to emulate their fathers. Djibril Cisse, whose father Mangue was part of the Ivory Coast squad that reached the 1970 ANC semi-finals, has done so successfully, Kaizer Motaung Junior whose father Kaizer Motaung had a successful career at the Atlanta Chiefs before founding his own club, has managed to do the same. The family name can be both a blessing and bane for a son but sometimes it is the father doing the cursing. Wonder if Abede Pele is?