Nigeria - the haves and the have-nots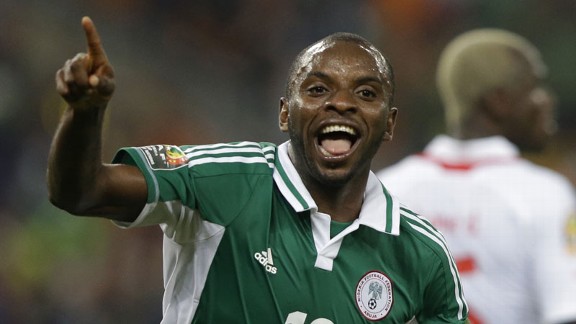 APSunday Mba is all smiles after scoring the winner in the #Afcon final
This weekend will mark the second Sunday since Nigeria were crowned African champions. As the weeks go by, their triumph will become the stuff of memory to be re-lived when they compete in the Confederations Cup and when the time comes for them to defend their title.

But there is one Sunday that will not be forgotten. Nigeria's hometown-hero Sunday Mba, who scored the goal that sealed the African Nations Cup win, has reportedly received offers from 16 overseas clubs. Although the western European transfer window is closed, he is considering both the eastern side and elsewhere on the continent to a further a career that legend will forever be remembered as beginning at the ANC 2013.

Mba's club, Warri Wolves, have agreed to sell him for €1 million conditional to a 20% sell-on clause. A club spokesman admitted candidly that they are "very willing to cash in on him" at the moment. In a return of the Around the Continent midweek feature, Football Africa takes a look at Mba in the context of Nigerian football and what the continental triumph means for the country.

Before this edition of the ANC, Mba was little known even to some followers of Nigerian football. He was one of six home-based players picked by Stephen Keshi. In other words, one those that was seen as scapegoat for when Nigeria failed and there was no shortage of those that thought they would. Keshi was thought to be conducting an experiment which would only prove that big names should be picked because of their experience. He ignored them.

Mba remembered Keshi telling the local players they would have to "prove him right" in an interview with SuperSport. Mba himself was not able to do that in the first two games because he was not in the team, but Keshi brought Mba against Ethiopia and spoke to him the night before to remind him to stick to what he had done before, his natural game.

Mba saw it as an opportunity he could not "let slip from my grasp" and convinced Keshi he should start against the Ivorians in the quarter-finals. There, his solo effort resulted in Nigeria knocking out the tournament favourites and Mba said he knew that was a sign they would go all the way. "We believed that Ivory Coast were the strongest nation left in the competition and that if they were eliminated, no other team could stop us," he said.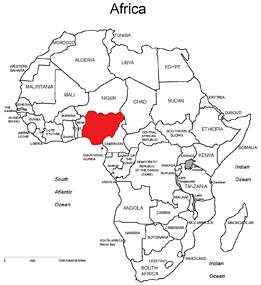 Nigeria is located in west Africa
That must be why he shouted "I'm the man" after netting. He found that Mali were "not as strong as any of the sides we had played earlier" and although Burkina Faso had improved as the competition went on, so had Nigeria. Perhaps most importantly, the Super Eagles soared with self-belief, which is the one quality that has shown itself to be essential for teams to perform well at an ANC.

Keshi's philosophy was working. He even went as far as to express his ideas about Africanisation and lambasted some on the continent for hiring foreign coaches when they could put their faith in one of their own.

Disparities like that is the essence of what much of the continent is about. Where some Nigerian players can achieve global success, others try to by responding to advertisements placed in a local newspaper to play in the Tanzanian league where they are told they will earn up to US$10,000 a month. If you think the latter smacks of a scam, you would not be the only one.

Keshi claims he wants to change those skewed prospects and he believes he is doing that through incorporating more players like Mba into the national sides. Keshi's own dreams of seeing the United States were dashed when the team did not qualify for the Los Angeles Olympics in 1984. He seems to want to empower players based in Nigeria and ensure they get as much exposure as possible.

Mba enjoyed the limelight but the wider effects of that are yet to be tested. Parallels between Mba and Emmanuel Amuneke, who was a relative unknown at the 1994 ANC but went on to play for Sporting Lisbon and Barcelona after Nigeria won, have already been made. Could Mba go on to something similar? Or will his rise mean only that people will place more faith in players who remain in the country rather than those who make it out?

And what of Keshi and the Nigerian team? After the drama surrounding whether the Big Boss would continue as coach (which he has agreed to do), the 2014 World Cup is in his sights. His personal targets may extend to a European club but he will need Nigeria to get there.

One cannot discuss the state of Nigeria's football without mentioning its women's teams and in this case, they will be a source of inspiration. They have qualified for every World Cup and won the first seven CAF Women's Championships. If the men can emulate some of that, Keshi, Mba and the country's football will have achieved more than enough to be proud of.