Libya - Challenging tasks for new officials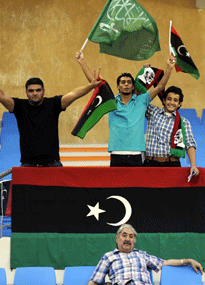 GettyImagesLibyan fans have had no domestic football to watch since the league was suspended during the 2011 revolution
Later this year, Libya will hold parliamentary elections. It will not be the country's first taste of democracy since the fall of Muammar Gaddafi but it will be the most significant one. Unlike the polls to elect the transitional government last year, this election will be held under a new constitution which should represent complete full-circle freedom and change.

The Libyan Football Federation (LFF) has already made that step. On Monday, it chose the first elected president in its 51-year history. Anwar al-Tashani, a lawyer, received the backing of more than 100 clubs to take the beautiful game out of its previously ugly state in the country.

Just a few years ago, football was held firmly in the grip of the country's ruling family. Gaddafi's sons Saadi and Mohammed were in control of the game. Under them, the sport was run as a farce. Referees were forced to favour Saadi's club (he played for Al-Ittihad Tripoli and Alahly Tripoli) and his was the only name that could be called out in stadiums - the other players had to have their numbers read out.

He used his influence to acquire contracts with Italian clubs and was on the books of Perugia, Udinese and Sampdoria at different times. Although he captained the Libyan national side, proof of his ability is probably better judged in that he rarely played for any of the three foreign clubs he signed for and made a total of two appearances in Serie A.

Exorcising his ghost from the LFF may be a tricky task on its own. To begin with, Saadi remains alive and on the run. He is currently in Niger, where he has been granted asylum, and has made attempts to get to Mexico and even back home. It remains unlikely he will ever return to Libya or its football but his long hold over the game will take time to remove completely.

Libya made small strides in that regard when they qualified, against all odds, for the 2012 African Nations Cup. They were the fairytale side of the competition who brought tales of wartime heroics to the field. But they exited at the group stage, after winning just one of their matches.

The game has since been in decline in the country. The league was suspended during the revolution two years ago and a combination of security issues and administrative bungles has resulted in it not being able to restart. That will be Al-Tashani and his new general secretary Hussain Bousefi's first task.

The duo's appointment coincided with the creation of a committee who have been entrusted with reorganising the league set-up. Bousefi is expected to play a major role in this because of his experience in management and previous role as chairman of the regional competitions' committee in Tripoli.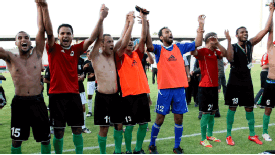 GettyImagesLibya's players celebrate a World Cup qualifying victory over Cameroon last summer
Even without a functioning league, Libya, like Egypt did, are still participating in CAF club competitions and World Cup and ANC qualifiers. Al-Ittihad played in the preliminary round of qualifying for the CAF Champions League and drew 1-1 away against Tunisian side CA Bizerten. Confusion remains over whether Libya will host any matches with one newspaper reporting that they will and another claiming that it is still a topic under consideration.

Ensuring the country is able to host matches is the other challenge for the new LFF. Libya were due to stage the 2013 edition of the African Nations Cup but agreed to swap hosting rights with South Africa because the revolution made it impossible for them to fulfil that obligation. The 2017 edition will take place in Libya, which gives the country time to prepare.

By then, they will also want a national team that will stand a good chance of competing and winning. For that, they will need major improvements. Libya fell 15 places in the latest FIFA rankings to 62nd in the world. They also dropped six places on the continent and most recently lost a match to Kenya.

Where Libya are still in good stead is the 2014 World Cup qualifying. They top Group I - a tough one that includes Cameroon, ANC 2013 quarter-finalists Togo and their next opponents DR Congo, who exited the same tournament without losing a match. Libya have a month to get ready for their match against the DRC and they have already had struggles.

French coach Alain Giresse was due to take up a post in Libya but at the last minute, decided to join Senegal instead. Abdulhafeed Arbich will continue in an acting capacity but Libya are understood to be on the lookout for a big name. They will only be able to secure one if they can prove their administration is functioning well and is, importantly, free from the political interference that so plagued it in the past.