Nigeria and four other lessons
A Nigerian website published pictures of president Goodluck Jonathan sitting in what looks an ordinary lounge with big-screen television watching the African Nations Cup final.

The first shot shows the president and a group of people looking at a close up of Victor Moses' face, the second of him hugging the first lady, Patience, and the third the entire party on their feet, Jonathan with his arms in the air.

He could not make it to South Africa to watch live because he had just returned from a trip to Europe but will be among the first to felicitate the victorious Super Eagles. Stephen Keshi took his team home from Johannesburg on Monday morning and celebrations were due to begin at the Nnamdi Azikiwe Airport in Abuja.

In the coming weeks, many more events will be held. There is much to cheer, of course. From the touching story of Victor Moses, who had to flee the country as an 11-year-old when his parents were killed in religious riots and came up through the England youth structures but is now "proud to be Nigerian", to the continued success of John Obi Mikel - from the stellar performances of Nigeria's local players, to the tactical acumen of Keshi himself.

The "Big Boss", does not know if he will continue coaching Nigeria in future but vice-captain (and surely future captain) Vincent Enyeama said the players want him to continue. A certainty is that Joseph Yobo, the relegated-to-the-bench skipper, has featured in his last ANC - though the former Everton defender hopes to still feature in the team's qualification for the 2014 World Cup.

Another surety is that Nigerian football is in good health. Despite entering the ANC as a team in turmoil with selection a key concern, they claimed a memorable triumph. After being written off by many of their own public and pacified by their coach who said they were still in a building phase, they proved that even embryonic Eagles can fly.

Five of their squad was named in CAF's best XI of the tournament. Those picked covered all areas. There was a goalkeeper in Enyeama, a defender in Efe Ambrose, a midfielder in Mikel and forwards in Moses and Emmanuel Emenike. As much as we learned about Nigeria, there were also lessons from different quarters. Here are Football Africa's four other picks:

Minnows, what minnows?

Burkina Faso single-handedly changed the perception that some teams just make up numbers after defying the odds and advancing to their first ANC final. Despite being steeped in controversy, from the make-up of the team to the history of their coach, they played an organised and entertaining game.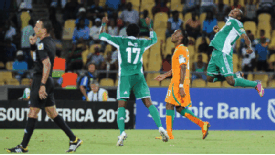 GettyImagesDidier Drogba has made 95 appearances for Ivory Coast scoring 60 goals
But they were not the only small fry to stand out. DR Congo brought a team that were worth watching as they played aggressive, positive football and exited the tournament without losing a match. Ethiopia were the reason defending champions Zambia suffered a first round exit, while Niger notched up their first point at a continental championship. However, the real darlings were Cape Verde. Air traffic controller Lucio Antunes and his team of mostly Portugal-based players were surprise quarter-finalists after showing off superior skills against Angola and their promise is exciting for tournaments to come.

Local is lekker but don't discard the foreign influence

The South African word "lekker" translates to cool or good and that is what ANC is all about. For many players based on the continent, it the biggest stage to showcase their talent. Nigeria coach Keshi was determined to show that.

Sunday Mba was the most obvious talent and European scouts will surely be circling. DR Congo striker Tresor Mputu and South Africa goalkeeper Itumeleng Khune are other examples. Keshi himself makes a case for African coaches and was vociferous in expressing that local managers must be given a fair chance.

But that does not mean overseas input should be scoffed at. According to the Burkinabe players, Paul Put was the only one who believed in them. Mali's team have threatened a revolt if Frenchman Patrice Cateron is sacked and the experience and transferal of skills that players who operate in the big leagues bring is important to development at home.

Stars don't play football

To quote Nigeria keeper Enyeama, who said this prior to the quarter-final against the Ivory Coast, "big names are not all it takes to win". Didier Drogba could not inspire the Elephants to victory, Seydou Keita could not pull Mali over the line, Asamoah Gyan did not help the Black Stars to shine brightest and Emmanuel Adebyor was not enough for Togo to lay their hands on silverware.

Zambia proved last year that team spirit, togetherness, common purpose and a sense of community are what teams need to win the ANC. Individual interests are always secondary. Burkina Faso played like that, so did Nigeria. It may be something for the perennial favourites to think about next time.

Africa is not Europe

That would seem obvious wouldn't it? Not to everyone. Among the many ill-founded complaints about stadium attendances was that the participating countries did not have traveling fans. To begin with, this tournament was the best attended in ANC history with more than 800,000 tickets sold. However, the vast distances on the continent and relative wealth scale make it difficult and sometimes impossible for people to traverse as easily as they do up North.

Countries in the region, such as Zambia, and those with large expat communities like Nigeria and Ethiopia had a healthy fan base in South Africa. Locals attended the games too, because tickets prices were low and although the World Cup stadiums did not appear full (because they weren't) there were good numbers present. And for the record, at OR Tambo International on Monday morning, this writer spotted hundreds of Burkinabe supporters making their way home. Hope to see them all in Morocco in 2015.