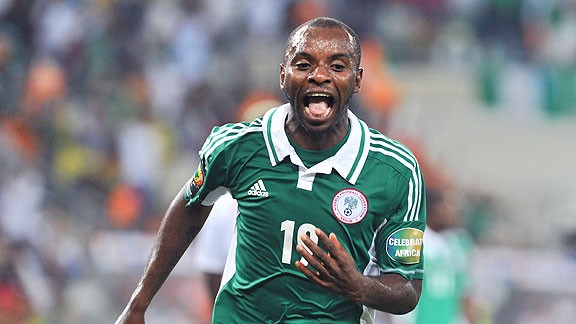 Issouf Sanogo/AFP/Getty ImagesSunday Mba's dazzling strike earned Nigeria their first African Nations' Cup title since 1994.
The fraction of a second in which the Katlego ball was juggled between one man's feet could have felt as long as a month of Sundays. For Nigerians it may have.

In reality, the few moments between Victor Moses' shot being blocked by the Burkinabe defence and the ball falling to Sunday Mba was not that long at all. In little more than a heartbeat, the Enugu Rangers player flicked the ball off one foot, caught it with the other and lashed it past Daouda Diakite to put Nigeria ahead five minutes before halftime.

- Nigeria wins African Cup of Nations
- Match-winner Mba toasts dream come true
- Video: Nigeria 1-0 Burkina Faso (UK, US, and Ire)

His goal was more than just the first strike of the 2013 African Nations' Cup final. It was only the third time a team had netted in open play in the past four finals of this competition. It was a victory for locally-based players because if Nigeria had turned up with their full galaxy of stars, Mba may not have played at all. It was a catharsis for the squad of 1994 who did not return to defend their title in 1996.

As old as South Africa's democracy is represents how long it has been since Nigeria last won the continental championship. They triumphed in Tunisia with a squad that included Jay Jay Okocha, Sunday Oliseh, Emmanuel Amuneke (not to be confused with Emmanuel Emenike, who is part of the current Nigerian squad but was ruled out of Sunday's final) and Daniel Amokachi.

Despite qualifying for the 1996 tournament in what was then the new South Africa, they did not play a single minute in the competition. General Sani Abacha, who was the president of Nigeria at the time, withdrew the Super Eagles from the continental championship because of a political spat with the host government. Ask some of the Nigerian players of that generation and they are adamant they would have retained the cup.

No one will ever know the answer to that but one member of that squad, Stephen Keshi, has lifted the trophy again. On a balmy summer Sunday he became only the second man after Mahmoud El-Gahory to win the ANC as a player and a coach. Better yet, he did it in Johannesburg at the same stadium -- albeit now much more sophisticated -- he would have appeared in had the 1996 squad traveled to South Africa and played in the final.

Those memories will now be eased, at least for Keshi. His gambles paid off. Picking a mix of foreign stars and homegrown players was proved right particularly with Mba. He scored the winner against the Ivory Coast in the quarterfinal and then struck the final blow when it mattered most.

Nigeria's goal always looked imminent. They dominated the first 20 minutes and barely let Burkina Faso in with a sniff. Eventually Aristide Bance had two shots in three minutes and, as was the case in the semifinal, he sent both wayward.

It may have been the magnitude of the occasion which overawed the Burkinabe. They have never reached a final before and had all the theatrics of a full Broadway production in the background. Their top goal-scorer Alain Traore was ruled out with a thigh injury but made the trip to watch the final. Jonathan Pitriopa very nearly missed the match because of a red card that was later rescinded. Their travels to Johannesburg were delayed and their preparations went awry.

Paul Put will not offer too many excuses though. Burkina Faso punched above their weight by getting as far as they did. They knew it would be a major coup to go one step further, but they leave with their heads held high.

A sign that it was going to be an uphill climb for Burkina Faso came early. Their defence, which was only breached twice en route to the final, looked wobbly and in danger of letting one in. Nigeria continued to push forward, as was expected, and with an attack from all sides, Burkina Faso caved.

They have plenty to take with them, though. Pitriopa was named player of the tournament, Bance showed his promise and Charles Kabore led a well-organised unit. They showed their ability to compete among the continent's elite and have many more ANCs to look forward to.

Nigeria have a Confederations Cup in their sights. As champions of the 2013 ANC, they will compete in Brazil later in the year. They also have a team for the future. When Keshi came to this tournament, he said he was merely in charge of a building phase. He surmised that since it took the 1994 squad five years to develop, it would take his team the same length of time. But he has expertly managed to blend the skills of superstars like John Obi Mikel and Vincent Enyeama in with the rookies.

For that, there is reason to party. Almost two decades of waiting for Nigeria is over. One of Africa's most complex countries was united, even if only for a few moments. A reporter on the ground at the Teslim Balogun Stadium in Lagos said, "nothing political, nothing religions matters, only the Super Eagles."

At Soccer City, Joseph Yobo, the captain who was benched after the first match, made an appearance in the final seconds of play and was the man who accepted the silverware. It was a moment of pure poignancy for a team that entered the tournament under a cloud of internal strife and one that Nigerians everywhere will celebrate.