Every underdog has its day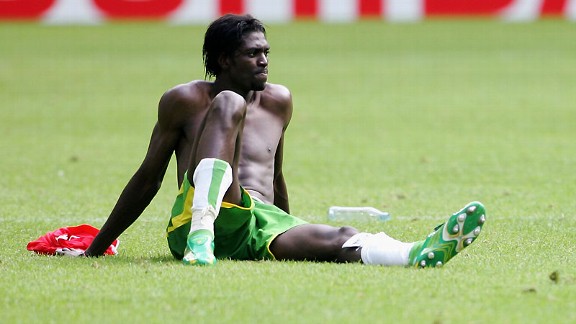 GettyImagesEmmanuel Adebayor: Back to help Togo qualify
The last group of the ANC qualifiers looks at the four matches on Sunday that may be unfairly overlooked. These countries do not always attract attention simply because they are not very well known but the contests themselves could produce some exciting results and an introduction to some of the teams we will get to see more of in South Africa next year.

- ANC part I: All to defend
- ANC part II: Africa on a knife-edge
- ANC part III: African giant killers

Gabon v Togo

A deadlock at 1-1 makes this clash interesting for it's almost a winner-take all contest. Togo have the away goal advantage so a goal-less draw will see them through. And given their chequered and tragic history at recent ANC's, a neutral fan may be tempted to say they deserve it.

It was during the qualification stage of the 2008 event that tragedy first struck. A 20-member delegation of sports officials were killed when their helicopter crashed after they had left Sierra Leone. None of the players were on the flight as they were waiting to take the next helicopter out of the country.

The 2010 disaster struck them far worse. The Togo team were on their way to start the tournament in the Cabinda province of Angola, when armed gunmen attacked them. Three people were killed and several injured. Togo withdrew from the competition. CAF banned them from the next two editions of the tournament and star player Emmanuel Adebayor retired from international football.

Neither lasted too long. CAF overturned the ban and Adebayor announced his availability a year later. He made his comeback in the first-leg against Gabon and should be fit for this match after he was able to play for his club, Tottenham Hotspur, at the weekend.

Gabon are best remembered for co-hosting the ANC earlier in the year where they won all their group stage matches and looked good enough to progress much further. They lost 5-4 won penalties to Mali in the quarter-finals but won the hearts of many in the process.

They will be without captain Bruno Ecuele Manga for the match. He has had knee surgery and will not be fit in time. Mosies Brou-Apanga and Remy Ebanega will have to do the defending in the leader's absence.

This fixture should be heated, especially after Gabon complained about the Mauritian trio of officials. The squad had a row with Seechurn Rajindrapersrad, Bootun Balkrishana and Vivian Wally in 2009 and asked CAF to replace them. The continental body refused.

Guinea v Niger

Niger made their maiden appearance at the 2012 event, when they beat South Africa to qualify. The result of their efforts was that their phone bills increased.

No, it was not because Nigeriens were calling each other in joy but because the country decided to add a tax to communication by cellular phone in order to fund the team's campaign. Their reasoning was simple. "If it's a team for the people they should contribute," Colonel Yakubu of the Niger football federation said. He promised that the players would do their best despite operating on a small budget. They could not manage to progress past the first round and public opinion on the tax has remained divided.

Guinea have the advantage, with a 1-0 lead from their match at home. Little news has emerged from their camp, although they will be expected to win the match given their recent record. They have participated in four of the last five ANC's.

Sudan v Ethiopia

If the first leg of this tie is anything to go by, the next match should be an absolute cracker. Sudan beat Ethiopia 5-3 at home and the away goals advantage sets the match up deliciously.

Ethiopia will have to score two goals without reply if they hope to progress for the first time in 30 years. They allowed Sudan to put three past them in the first half of the match and gave away two penalties when they met in September and coach Sewnet Bishaw said those mistakes will not be repeated.

"Our players scored wonderful goals and we went to Sudan to play good football which we did," he said. "We will go for the win in Addis Ababa as we try to qualify for the finals in South Africa."

Sudan reached the quarterfinals of the event earlier in the year and have been preparing to make a second successive appearance. They set up a task force headed by the Football Association vice president Eltiraife Elsidding Ahmed to strategise for them.

Coach Mohamed Abdallah said even though they have a two-goal cushion, they do not see the result as a foregone conclusion. "The tie isn't over, we have not yet finished. When we go to Ethiopia we plan to rectify our mistakes at the back and ensure we don't concede like in the first leg."

He has named an unchanged squad for what he sees as a crucial match. "I will not look down on Ethiopia. They are a good team and we should respect them. That is the only way we can grind out a result."

Congo DRC v Equatorial Guinea

The 2012 ANC co-hosts Equatorial Guinea are headed for a non-appearance at next year's event. They lost the first leg 4-0 and will need to put at least that number past Congo DRC.

The team had a decent run at this year's event under Brazilian coach Gilson Paulo. They won two of their group stage matches to progress to the quarterfinals where they lost the Ivory Coast.

Their exclusion will come to the advantage of DRC, whose best memory of the tournament is still their 1974 win, when they were called Zaire. They have played in many editions since then, most recently in 2006, when they reached the quarter-finals.

DRC are now managed by stalwart Frenchman Claude Le Roy, who took Cameroon to the title in 1988. He was also mentor to current ANC winning coach Herve Renard of Zambia, who said Le Roy's magic touch could never be doubted. "DRC have a very good team and the best coach in Africa so it is not a surprise they won 4-0 in the first leg," he said.

Le Roy will lean heavily on Dieumerci Mbokani, the Anderlecht striker who netted twice in the first win, to produce the goods again this time.