Eagles, Stallions and Stars battle it out for final Afcon berth
For the first time in African Nations' Cup history, the final four sides are all West African. The two regional derbies promise to be heated, competitive encounters as the competition heads towards the closing curtain. Football Africa takes a look at what to expect from the semi-finals.

Nigeria v Mali

The clash of the eagles, as both teams are nicknamed, is seen as the pick of the semi-finals. A Malian side that is looking for their best finish at the competition since 1972, when they ended as runners-up, will come up against a youthful Nigerian outfit whose coach has experienced an ANC triumph as a player and wants to make history by doing it as a manager too.

Ranked third on the continent, Mali are probably the favourites but the talk they bring with them - of giving joy to a war-torn country - means they will likely steal the hearts of the neutrals too. Mali's messages of goodwill have dominated their build up. Talisman Seydou Keita said: "Wining for the people is just as important as winning for ourselves." The team also sent a signed shirt to former South African president Nelson Mandela.

Mali have two injury concerns. Mohamed Sissoko and Samba Diabate remain doubts to start but coach Patrice Carteron is confident of his team's chances to go all the way. "Once you get through to the semi-finals, then you must believe you can win the tournament. I have a very special group of players," he said.

While Mali finished in third place last year and have had a good run of form, Nigeria have the historical advantage. They have beaten Mali in all their previous four ANC encounters but understand it will take more than a good record to do it again. Coach Stephen Keshi's knowledge will be heavily relied on, particularly as he coached Mali for two years from 2008.

Nigeria have improved as the tournament has progressed and even earned back the support of the nation, who initially doubted them. Keshi's selection policies have been justified. After leaving out European stars such as Peter Odemwingie and Obafemi Martins, he was criticised but the inclusion of five locally based players in his squad paid off when Sunday Mba, who plays his club football for the Enugu Rangers, scored the winner against the Ivory Coast.

"I want to kiss him," Keshi said, after that match. "Every one of my boys is a hero, a Hollywood star, but it just happened that a home-based player scored a beautiful, beautiful goal. It's good to see local players come through. If you give them the opportunity they can do it. It's a pity that in the kind of country I come from they are impatient with local-based players, they prefer professionals." Although Keshi has already done a good job, two more steps will rubber-stamp his efforts even further.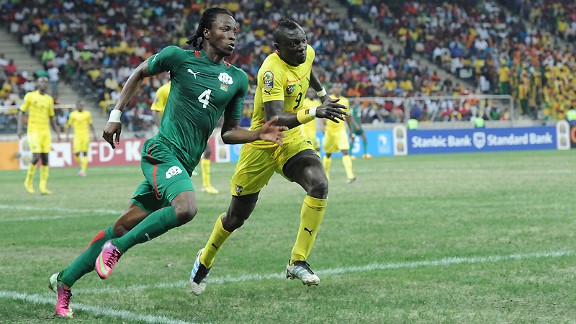 GettyImagesBakary Kone is a key figure in Burkina Faso's solid defence
Burkina Faso v Ghana

This is the match few would have predicted at the start of the tournament and many will see as a walkover for Ghana, but Burkina Faso have already surprised and could have another one up their sleeves.

The Stallions have never reached the final of an ANC and although they feel they have already done enough to prove themselves, to go beyond that will be their biggest motivator. They are also well-prepared as they attempt to do that.

Paul Put's men are so comfortable at the Mbombela Stadium in Nelspruit that they've begun to call it their home. Despite a pitch that has been labelled an embarrassment to the continent because of its sandy surface, affected by algae pre-tournament, Burkina Faso have made the necessary adjustments to play a passing game on it.

"Even though the pitch is very bad it's our home stadium and we have nothing to lose as no one expected us to play in the semi-finals. It's very difficult because you need one or two controls before you can play the ball, while on the training ground its only one touch. I told the players to be patient and stay well organised because with this pitch you never know. With one error they can kick your head off, so we have to be careful," Put explained.

So far, the disciplines have worked for the Burkinabe. They have not conceded a goal since their opening match against Nigeria, which puts the total minutes their defence has gone unbreached at 367 or six hours and seven minutes. Their partnership of Bakary Kone and Paul Koulibaly are well guarded by midfielders Issouf Ouattara and Charles Kabore.

If there is one team that can break through and change that, it's Ghana. The Black Stars have scored eight times in four matches to make them the competition's top-scorers. Importantly, contributions have come from all corners.

With the Ivory Coast no longer part of the competition, they are now the favourites to take home the trophy and coach Kwesi Appiah believes they can. "The unity is fantastic with this group of players. We've got ten young players in there and they mix together so well. They act as if they've been together for years." Now it's about making that count.