Zambian despair, Nigerian joy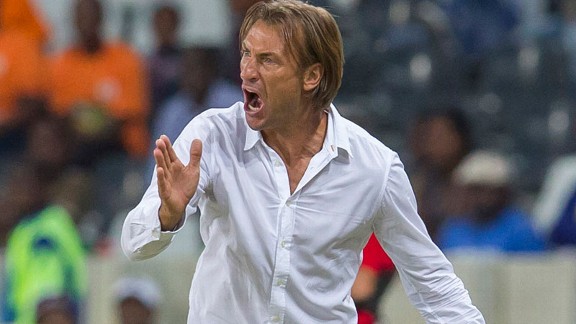 GettyImagesHerve Renard's men have been ousted
In defeat, sometimes there are martyrs. Herve Renaud has offered himself up as one. The Zambian coach put his own head on the block following the team's first-round exit from the African Nations Cup, where they were defending their title.

"I loved my team tonight. If there is someone who is responsible then it's me, not my players," he said afterwards.

He also put their performance into perspective, saying Zambia do not have to mourn the defeat too much having won the competition a year ago. "It's better to have won something in your life than to always qualify for the quarter-finals, but never win anything. This is not the end of the world. Before we used to go home a lot of times after the first round, and today you have to accept that this is football. Everybody is sad but my players did their maximum, and I'm very proud of them. It's not the end of the world."

Renard did make reference to the sandy surface in Nelspruit by saying the Zambian game is to play the ball more along the ground than in the air, something the pitch did not facilitate very well. However, Renard was careful not to blame it entirely. "If I say the pitch was a problem then people will say I'm crying," he said, but then got his dig in too. "The 2012 pitch in Equatorial Guinea and Gabon was much better."

Kennedy Mweene, who plays his club football in South Africa, was a little more measured in response. "I don't want to go too far to say the pitch contributed. We did not play well, especially in the final third of the pitch," he said.

While Zambia were frustrated by their inability to get past Burkina Faso, Paul Put was thrilled with his side's advance to the quarter-finals. He praised them for using "more pepper than salt," presumably alluding to the more tempered performance from his team.

They are still waiting on news of Alain Traore's injury, which looked serious when he stretchered off the field within just ten minutes of the last group match but are already eyeing bigger things. "Now we need to have the mentality and the belief that we can go on further and do better than we've ever done," Put said.

Their best finish was at the 1998 event which they hosted, when they qualified for the semi-finals. Burkina Faso will play the runners-up in Group D, either Togo or Tunisia, while Nigeria have been paired with the Ivory Coast in what is shaping up to be the knockout game to watch.

Nigeria certainly understand the magnitude of the task that awaits them. "Taking on Cote D'Ivoire is a different ball game, it is a different mentality - everything is different because it is not going to be the same as preparing against Ethiopia or the last two teams we played against," Nigeria's coach Stephen Keshi said.

It is a match some are saying will be worthy of a final. Nigeria's group stage clash against Zambia was talked up in the same way, but it ended up yielding only a draw. Keshi had to wait until the match against Ethiopia to record his first win as a coach at the ANC and it would have been a massive relief for the former international defender.

Keshi has extreme criticism for his team selections which includes leaving out Peter Odemwingie - a move that resulted in a public spat -in favour of trying younger players. The coach, though, believes he has been redeemed by the performance of the team so far, particularly during the match Ethiopia. He said: "I thought Sunday Mba was outstanding in midfield and his introduction is part of my plan to build a team around young players, and senior players like captain Joseph Yobo, vice-captain Victor Enyeama and John Obi Mikel."

Although Nigeria still have a way to go in the event, Keshi, who postponed his birthday party during the group stage believes it's time to start the whooping: "This is a victory for Nigerians where ever they are in the world. This is a time for celebration."