Out of Africa: Champions Zambia sent packing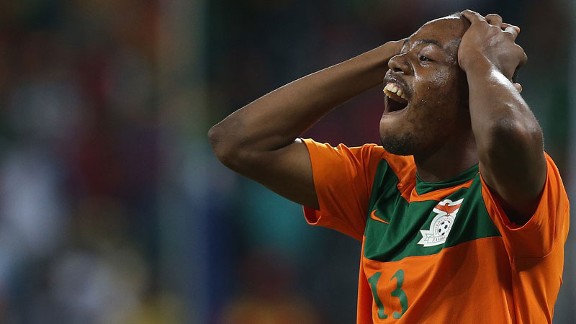 AssociatedStoppila Sunzu shows his frustration as a chance goes begging for Zambia
Zambia have become the African team to spend the shortest ever time as continental champions after drawing 0-0 with Burkina Faso on Tuesday. Twelve months into their reign, they were knocked out in the group stage of the next edition of the African Nations' Cup without winning a single match.

Three draws were never going to be good enough. To be frank, Zambia have not looked good enough. But they will still have reason to feel aggrieved. Had the Confederation of African Football not taken the sensible decision to move the competition to odd numbered years - shifting the 2014 version forward to 2013 - so as not to clash with the World Cup, Zambia would have still been champions.

Moreover, they would have travelled to Brazil for this year's Confederations Cup as Africa's representatives. Now the only place they are going is home.

There are the first defending champions since 1992 to fail to make it out of the group stage in the next edition of the tournament. Their fans at the Mbombela Stadium were in tears, the players completely dejected and Herve Renard could go the same way his mentor Claude Le Roy, who managed Congo DR in this tournament, out of Africa.

Zambia have only themselves to blame. Once Nigeria had scored in Rustenburg they needed to reply with a goal themselves. Despite the lions' share of possession – 61% - they were unable to do so. Zambia's lack of penetration has been a problem since the competition began. They turned into a Bafana Bafana of sorts, completely impotent despite retaining the ability to create chances.

There will be a lot of soul searching for Zambia to do once they have digested this loss. Just as there will be much celebrating for Burkina Faso who are the surprise quarter-finalists from this group. Their last minute equaliser against Nigeria in the opener and 4-0 drubbing of Ethiopia in the second match sees them through to the knockout stages for the first time since 1998.

Although they will pride themselves on being one of the last eight teams in the competition, they have one major worry. Key striker Alain Traore could play no further part in the tournament after leaving the pitch with what looked like a serious injury.

Nine minutes into the final group stage match, he fell onto the turf in absolute agony, clutching his problematic quad. He was stretchered off with an ice pack on this thigh and his tournament may well be over. The Nelspruit pitch will come under scrutiny especially as it was criticised for its sandiness in the group stage.

Whatever happens to it, it will not heal Traore in time and that could put Burkina Faso at an enormous disadvantage. The Burkinabe forward almost missed the tournament because of injury but then went on to become its top-scorer with the equaliser against Nigeria and a brace against Ethiopia.

His injury was, in fact, the only incident of the first halves of both matches as Group C ended. As a whole, this pool was the least entertaining and the most frustrating because of the number of draws. It fizzled out quicker than an effervescent drink and with the same sour aftertaste, especially in the way it was eventually decided.

For 80 minutes it seemed that the group would be decided on the disciplinary record of Zambia and Nigeria as both matches were set for stalemates. A group that started off with so much promise looked destined to disappoint.

Nigerians fans will disagree because Victor Moses' two penalties secured their spot in the last eight. The Chelsea player turned out for England at youth level and as recently as four years ago it was unlikely that he would play for Nigeria. Now he has scored twice in one of the country's most crucial matches.

But Moses' goals would have been possible without Ethiopian ill-discipline. After starting the competition as one of the teams worth watching, the continental pioneers, who were part of the first ANC, became something of a joke. They were comprehensively beaten by Burkina Faso and allowed Nigeria to get the better of them.

On the whole, it is a relief Group C is over but is has produced something to look forward to. A heavyweight quarter-final when Nigeria will come up against Ivory Coast in Rustenburg, where we should be able to see if the Super Eagles are really ready to soar.