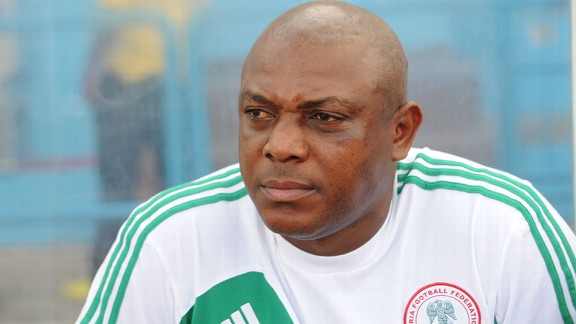 GettyImagesNigeria coach Stephen Keshi is a man under serious pressure
Part two of this weekend's African Nations' Cup qualifiers preview looks at the rest of Saturday's matches. Two of the contests hang in the balance, with the teams level on goals - although one side has the advantage of an away goal. The other two could be considered as already decided, because the teams have a significant advantage but given who their opposition are, an unexpected outcome is not impossible.

• ANC part I: All to defend

The tough tussles

Liberia v Nigeria
Liberia's Lone Stars sent shockwaves through one of the continent's powerhouses when they took the lead, conceded twice and then came from behind to draw 2-2 with Nigeria in the first leg. The result could prove to be career-ending for Nigeria coach Stephen Keshi, who is certain to lose his job if his team cannot pull off a win or hold on to their away goals advantage in Calabar.

Nigeria's sports minister Bolaji Abdullahi met with the Football Federation after the London Olympics and "ordered" them to make sure the team qualifies for the ANC. He said if Keshi has to be fired to make that happen, the ministry will have no qualms about doing so.

It will, of course, be too late by then. Nigeria should have John Obi Mikel back in their squad, after he expressed his commitment to the national team, which should give Keshi one less thing to worry about ahead of a crunch match.

There is also incentive for Liberia, but of a less pressured kind. The team have been promised $300,000 if they are able to beat Nigeria and progress to the tournament. Liberia have not competed in the event in a decade but have secured various corporate financing to ensure they are able to reward their players. The country's Central Bank, National Oil Company and National Port Authority are all part of the donors' list.

Sierra Leone v Tunisia
These two teams will get used to each other over the next two months. Not only are they opponents in the ANC qualifying but they are grouped together for the 2014 World Cup qualifiers.

Sierra Leone captain Ibrahim Kargbo said the attitudes of the players need to change if they hope to progress to the continental championship. "Some players in the team lack discipline and they've exhibited that in previous matches," he said.

The Leone Stars showed glimpses of a more focused approach when an advance delegation arrived in Tunis on Sunday to prepare for the match. The early birds included goalkeeper Christian Caulker and defender Ismail Koroma as well as the country's deputy director of sports.

Tunisia have the away goal advantage after a 2-2 draw in the first leg and are so confident that they will be able to defend it that the new sponsor they have signed has confirmed their presence on their shirts for the tournament.

Gillette became the first American brand to align itself with a national football team in the Arab world when they committed to a year-long deal which also includes their 2014 World Cup qualifying campaign. If they don't make it to the ANC, they will be able to wear their new logo next week, when Tunisia play Egypt in a friendly on Tuesday in Dubai.

The not-so-cut-and-dried

Mozambique v Morocco
Like an aging monarch, Morocco have been written up on reputation and not performance recently. They hit a new low when they were defeated 2-0 by minnows Mozambique, a result the local media have called "disastrous."

The country's football federation also took defeat in Maputo seriously, so much so that Eric Genets lost his job. FAR Rabat's Rachid Taoussi was appointed in his place and had just three weeks to prepare the team for their must-win match against Mozambique, but has had most of the team in camp for all of that time. The Atlas Lions went into camp on September 26 and have been training as though they have to fight for both pride and a win.

Taoussi was not the public's choice, they would have preferred former manager Badou Zaki to be reappointed, but is still confident Morocco can win. "We will beat Mozambique, there is a new spirit in the team. We have to effective in attack and go into the game as a unified force," he said.

If Mozambique manage to make their home victory count, it will be a major coup for the small country, who have been part of the continental tournament four times before. Their last appearance was in 2010.

Ivory Coast v Senegal
What was talked about as the most exciting tie of qualifying did not disappoint as six goals were scored in the first leg. Ivory Coast came from behind twice to beat Senegal 4-2 and put one foot on the plane to South Africa.

The Ivorians are spearheaded by Didier Drogba, who could play his last ANC next year and will want to go one better than their runners-up spot earlier this year. They will have to defend their advantage without Saloman Kalou, who was injured while playing for Lille. An addition to their squad is 19-year-old Norway-based goalkeeper Mande Sayouba, while Newcastle midfielder Ismael Cheik Tiote makes a return. They have left out Kader Keita, who also does not have a club at the moment.

Senegal have to earn a big win, following the 4-2 defeat away from home, to avoid missing out on the ANC. Midfielder Ricardo Faty has predicted a 2-0 victory for them, aided by home support.

"We lacked some experience in Abidjan during the first leg. When leading, we were supposed to play defensive and conserve the advantage. Instead we kept the game open in search of more goals," he said. "The Ivorian team has a very sound attacking line, but will maintain the pressure while checking our back half, and we will have about 60,000 home fans to cheer us to victory."