The synergy of South Africa and Cape Verde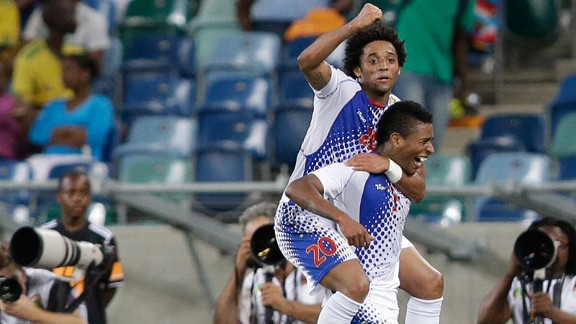 APLuis 'Platini' Soares takes flight for Cape Verde.
In the 1970s and '80s, South African Airways (SAA) used to have a refuelling base on one of the Cape Verdean Islands. They were allowed to stop there on their way to London, mainland Europe and New York, even though the airline was prohibited from flying over a lot of other African land because of the country's Apartheid policy.

Few would have known about this unusual link between the two countries but it may rehashed now that they are both through to the African Nations Cup quarter-finals. They didn't do each other any favours apart from draw the opening match to keep the group open but they were the two teams least expected to progress: South Africa because they have been so terrible for so long; Cape Verde because they are so very small.

But they both sank the Angolans who did not show any of the fighting qualities that brought them into the tournament and held the Moroccans. The North Africans sobbed on the pitch after realising they had been eliminated but their tears may not pacify their fans.

For all their reputation, the team has failed to progress to the knockouts of the last three tournaments. Leaving out QPR's Adel Taarabt may have proved to be a mistake but these are all things that management will consider as they continue with 2014 World Cup qualification.

The focus at the moment is very much on the current tournament and on who South Africa and Cape Verde will face in the quarter-finals. Ghana are in prime position to top Group B, which will mean (as one local paper put): "the Black Stars will avoid playing the hosts."

It's probably more important for South Africa to avoid Ghana but be that as it may, Asamoah Gyan will still want his team to top their group. That would leave Cape Verde with another giant to slay and South Africa with one of Mali or DR Congo. They would probably prefer the latter.

South Africa have far more to work on than Cape Verde going into the clashes. Former captain Lucas Radebe was unimpressed with their defence, who Bafana have been relying on to score goals. That is a two-in-one problem. The backs should be keeping goals out but if they are busy at the other end of the pitch that becomes difficult, while the forwards should really be the ones getting the ball into the back of the net.

Cape Verde have fewer technical issues. For them it will be more case of not being overwhelmed and showing off their players' skills, most of which have been honed in the Portuguese league. Having come this far, they already have massive reason to celebrate and although South Africa's euphoria got much better media coverage, the offshore festivities were just as boisterous.

Thousands of Cape Verdean expats, living in Lisbon, were ecstatic with their team's performance as they overcame a close relation. Angola is also a former Portuguese colony and people from both countries watched the match together. At half-time, fans in the city were distraught that no Lucophone country would qualify for the knockouts but after Cape Verde scored the winner, even Angolan fans shared their joy even though it came at their expense. It is simply too good a story not to like.

Lucio Antunes, the Cape Verdean coach, stopped talking midway through his press conference and began to sing. The Biography of Crioulo is a local tune of joy which refers to the Portuguese dialect spoken on the Islands. "This is a traditional song. I dedicate it to all the people at home," he said. He also believed the late match rain "blessed our effort".

Antunes has already written his name into Cape Verdean history and anything the team do from here on will only grow his reputation. He may even end up with an offer from a European club, now that his name is doing the rounds. Just to make the story even better, his full time job is as an air traffic controller. Wonder if SAA know that?