South Africa, Cape Verde through in dramatic fashion
Since 1994, no home nation has gone out in the first round of the African Nations Cup. Today, South Africa are no different. Those words could easily have been fiction but Bafana Bafana came back twice Sunday to draw with Morocco 2-2 and finish top of Group A.

Never in ANC history has a team from a country of only 500,000 advanced to the knockouts. Cape Verde changed that. The tiny island nation are appearing in their first continental championship and exceeded expectations by overturning Angola's lead in a 2-1 victory and securing their spot in the last eight.

Little over a week ago, these teams played out a drab, goalless encounter to open the event. Sunday, they produced an amazing night of African football to light up the tournament and every heart from Pretoria to Praia. Even those in Casablanca and Luanda who were hurting must have been able to beat a small smile, so incredible were the scenes.

South Africa have only lost once in 21 years in Durban and their faithful were out in full force. One writer was so moved by what he saw pre-match that he reported the following:

"Moses Mabhida Stadium is a cacophony of colour! More than any other team in the country, Bafana enjoy the widest range of supporters. Young old, black, green, white, yellow, even cynical journos are desperate for Bafana to make South Africa proud. This is the rainbow ideal that was fought for."

But big occasions and South African football do not go together like beer and a braai. Bafana Bafana are known to get overawed and they were again in the first quarter of the match. In qualification, Morocco turned it on when they had to against Mozambique and they must have received a similar talking to ahead of the clash with South Africa.

The North African team had been disappointing before this match and shown very little intent. They looked to have saved it all for Sunday. They had their first chance before 120 seconds had been played when Youssef Kaddoioi dragged his shot wide of goal.

Before 10 minutes had been played, Morocco forced the first mistake out of Itumeleng Khune all tournament as tried to punch the ball after it had been headed past him by Issam El Adoua. His defence let him down somewhat as did the physical presence of the Moroccan forwards and Moses Mabhida fell silent.

It took South Africa's defenders to save them again. May Mahlangu curled a ball into the top corner to put the hosts on level terms. And while that was happening, Cape Verde came close to digging their own grave when an own goal gave Angola their only score of the competition.

At half-time, South Africa and Morocco were both going through. South Africa had Khune to thanks for keeping them in the match. His saves, which involved coming far out of his area, putting himself on the line and ensured nothing could get past him.

It was not until the last 10 minutes of both matches that the situation began changing hands faster than money on a black market. Cape Verde equalised through Fernando Verala, which put the Islanders ahead of Morocco on the table because of fewer bookings. But a minute later, Abdelilah Hafidi's sublime finish saw Morocco put themselves back into contention.

South Africa were staring at an exit but Siyabonga Sangweni scored the coolest goal of the competition under extreme pressure. Tokelo Rantie played him in and where South Africa would normally miss, he hit.

But there was more to come. An awful goalkeeping error by Joao Lama allowed Heldon to fire Cape Verde into the quarterfinals and Group A finished in dramatic fashion.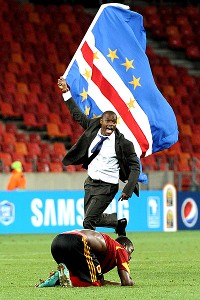 Stephane De Sakutin/AFP/Getty ImagesCape Verde manager Lucio Antunes celebrates his team's victory over Angola.
Both coaches have moves almost as good as their teams. South Africa's Gordon Igesund jumped onto the pitch, arms pumping and a smile the size of the stadium's arch on his face. He rounded the team up in a huddle, part-prayer, part song and then the team acknowledged the Durban crowd. The draw should not make them think they are at their best. South Africa's defence still needs a lot of work and will face a stern examination in the quarters.

In Port Elizabeth, Lucio Antunes took his country's flag and ran the perimeter of the Nelson Mandela Stadium with it. The ai -traffic controller is already hailed as a hero at home after the team beat Cameroon to qualify. If he could be knighted, there is no doubt he would. The entire squad piled into the post-match press conference, cheering and singing, long before they spoke a single world.

African football is celebrated for its different flair and raw passion. Sunday night was all of that and more. As we say here: Halalala Bafana Bafana. And in equal measure: Halalala Cape Verde.