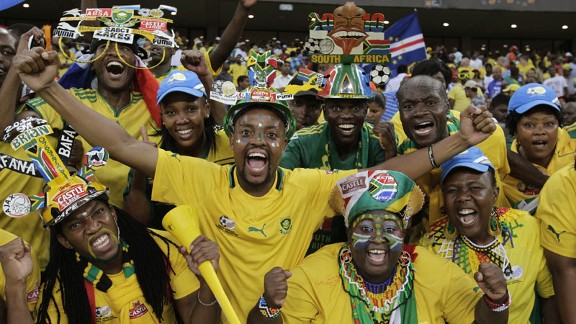 AssociatedSouth Africa gave their fans something to cheer with the 2-0 win over Angola
With two rounds of the tournament complete, the teams to make a splash were the two "Bs": Bafana Bafana and Burkina Faso. Both are likely to be surprise quarter-finalists after they won crucial matches this week. Ivory Coast are the only side already through to the knockouts as they announced themselves as the team to beat in the competition.

The home side recaptured hearts and minds with a 2-0 win over Angola and now only need a draw against Morocco to progress. From a goal-shy outfit, they transformed into an attacking unit with the major difference being the inclusion of Dean Furman in the midfield.

South Africans believe again, although they need to be careful not to become overconfident. They are likely to meet one of Ghana or Mali in the knockouts and that will present a far more complicated challenge. Before they get there, they have to keep a motivated Morocco away, who must win or hope for a draw in the other match.

Cape Verde, who look a well organised and unified unit, will not settle for that. The Islanders can exceed all expectations by beating Angola. That will ensure they make it into the last eight. Their captain, Nando, has praised their "team spirit and sense of family", and history tells us that close-knit units usually do well.

The teams in Group A will have their eyes closely trained on Monday's Group B matches because that will determine their quarter-final opponents. Ghana got it together against Mali to put themselves in prime position to advance, although they have yet to play like champions. Moving Kwadwo Asamoah from the midfield to left back and back again is their biggest tactical consideration and has left them a little unsettled. They will also be without their penalty scorer Wakaso Mubarak after he earned two yellow cards in the previous two matches.

Mali and DRC will likely fight out the last two places, with Seydou Keita's men needing a draw and Tresor Mputu's a win to qualify. Mali have not been as potent as they would have hoped and Claude le Roy will be eyeing them as he hopes to work his magic with another African side. Of concern to DRC will be that they could not breach Niger's defence despite waves of attack and Mputu was all but nullified.

While Niger kept them at bay, they are the unlikeliest to progress from this group. They secured their first ANC point with a draw against DRC but must beat Ghana and hope DRC do them a favour against Mali.

On Tuesday, focus will shift to the defending champions, Zambia, who are at risk of being eliminated from the first round. Burkina Faso stunned Nigeria when they scored a late equaliser and then romped their way through Ethiopia to earn the tournament's biggest win so far: a 4-0 victory. They only need a draw with Zambia to advance while the title holders should look for a win to be certain of their spot in the last eight.

Victory for Nigeria will also be the simplest way to ensure they get through although all four teams stand a chance of advancing depending on permutations. Ethiopia, who were impressive in their opener against Zambia and have a massive support base in South Africa, need to beat Nigeria and hope Burkina Faso at least draw with Zambia for example. It's still an open group in some regards and should provide an interesting set for mini-battles.

The group stages will end with a straight shootout between Tunisia and Togo for the final quarter-final spot. Algeria have already been eliminated after they lost both their matches and will only have pride to play for against Ivory Coast, who will want to keep their form intact heading into the knockouts.

For the Elephants, who claim to have learned from past mistakes, the final will be the biggest hurdle, because it's there that they tend to stumble but winning along the way won't hurt. Togo looked the part against Algeria while Tunisia have been scratchy, although they are the side carrying the bulk of North African hopes and will want to do that well.

With half the tournament's matches already played, attendances have not been as poor as has been said. It must be remembered that travel in Africa is not as simple as it is in Europe and South Africa is an expensive destination. Ethiopia, Ivory Coast, Nigeria, Togo, Ghana and the home side have had plenty of spectators behind them while Algeria, Tunisia, Morocco and Angola have also had their fair share. What cannot be seen are the flags on vehicles and homes in major cities and decent levels of interest throughout.

Facilities have all been up to standard with the only concern over the sandy nature of the pitch in Nelspruit and a long delay in organising a fallen over goal post in Rustenburg. Other than that, South Africa's ANC is playing out well and is set for an exciting second half.