Dropping Drogba pays off on dark day for the continent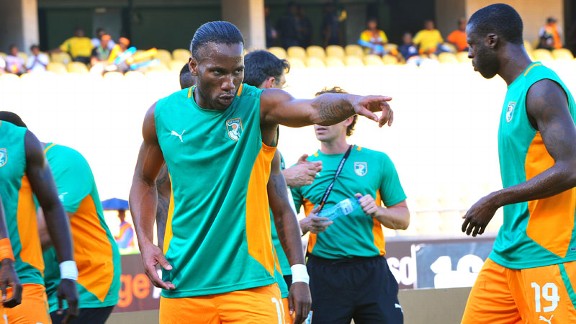 Duif du Toit / Gallo Images/Getty ImagesDidier Drogba was dropped to the bench at the start, but still featured as a substitute in the Ivory Coast's 3-0 win over Tunisia.
Drastic changes have yielded dramatic results in the tournament so far and the Ivory Coast were the latest team to benefit from that. Sabrui Lamouchi took a massive gamble when he decided to drop the talismanic Didier Drogba to the bench and replace him with Lacina Troare, but his team now sit on the cusp of the quarterfinals as a result.

- Match summary: Ivory Coast 3-0 Tunisia

Drogba had never been dropped in his international career. The current captain is the country's top goal-scorer, having netted 59 times in 92 appearances and is believed to be playing his last African Nations' Cup (ANC). He has won a series of accolades at club level including Premier League titles and the Champions League, but he has never triumphed at a major competition with the Ivory Coast and has expressed deep desire and shown enormous motivation to do that.

But he was completely negated in the team's tentative 2-1 win over Togo in their opening match, mostly because he was well-marked throughout. This week, he confessed to his fitness levels only being between 50 and 60% of where they normally are, something he puts down to a two month absence from competitive football.

The Chinese Super League, where Drogba plays for Shangai Shenua, ended in November. Although Drogba has been training with his former teammates at Chelsea, he appeared as unprepared as he claimed to be. Drogba played a very small part in the opening victory, as did Kolo Toure, and Lamouchi decided not to start with either.

It worked. Troare did not score himself, although he had a chance early on, but his physical presence appeared to overwhelm Tunisia. He was instrumental in the first goal in his one-two with Gervinho, who remains the most impressive, resourceful and determined player in the Ivorian lineup. Every time he has the ball, Gervinho has looked dangerous with incisive runs, selfless passes and top-drawer finishes.

As a result, Ivory Coast kept Tunisia out of the first half. The dominated possession and chances. The North African side had no shots on target in that period. They started the second half with a little more intent. Saber Khelifa pressed forward but could not make convert any of his opportunities.

While Tunisia searched for a way to get back into the game, Ivory Coast ensured their unbeaten run at the ANC extended to 10 matches. When Yaya Toure was crowned African Footballer of the Year for 2012, he was thought to have received the prize ahead of Zambia's Christopher Katongo, but his showings so far have put him in prime position to win the award for the third year in succession.

Toure doubled the lead with a classy strike from outside the box and then Didier Ya Konan slotted home with the third with what was very possibly his first touch of the ball after coming on as a substitute. Tunisia were shut out in the final three minutes of play but the score line will make it look worse than it really was for them.

Tunisia are by no means out of contention, having beaten Algeria in their opener. Perhaps more importantly, the Ivorians showed why they were called the favourites going in to the competition and looked much improved from their display against Togo. If their graph keeps going upward, they could become even more dangerous as the knockouts loom.

Despite an absorbing encounter, AFCON went into its eighth day under a dark cloud. Egypt is in mourning once again after 22 people were killed in protests in Port Said. A day that was supposed to put last year's tragedy to bed has only caused further wounds.

After 11 months, an Egyptian court ruled that 21 defendants who were involved in the Port Said stadium disaster in February 2011 would face the death penalty. The sentences must still be verified by the country's senior religious authority, the Grand Mufti, and they can be appealed, but they resulted in celebrations in Cairo and death in Port Said.

When 74 fans lost their lives during crowd violence at a league match between Al-Ahly and Al-Masry, the Egyptian League was thrown into chaos and uncertainty. It was suspended immediately and all attempts to restart it were aborted as the Al-Ahly fans, the Ultras, threatened violence should football be played before what they considered justice had been done.

Egypt's domestic tournament is set to resume next Friday and although 52 defendants are still awaiting verdicts, the death sentences handed out are seen as the beginning of the end of this saga. But people in Port Said are not happy and their protests resulted in tragedy. Two policemen are among those dead.

While Egypt have nothing to do with the current ANC, they are its most decorated team overall. Despite their absence, they remain one of the powerhouses of the continental game and when something happens in their country, the rest take notice. Today, they will watch the events and weep.

In the second match of the day, Algerian despair loomed large as they went down 2-0 to a spirited Togo to leave Valid Halilhodzic devastated. Not even a lengthy delay which resulted in 13 minutes added time could bring goals for the North Africans.

Group D now seems decided with Ivory Coast all but through and Togo and Tunisia to fight out the remaining spot.