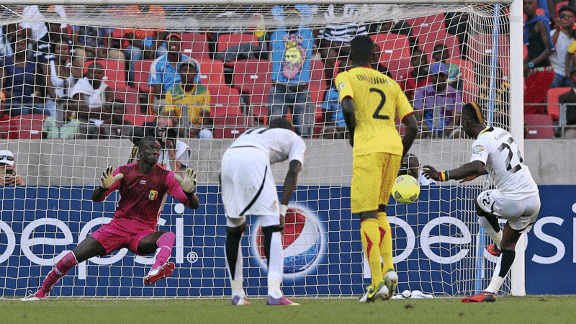 APMubarak Wakaso's penalty was the difference between Ghana and Mali
Ghana's Black Stars shone their first light on this African Nations' Cup with a much-needed win over Mali to leave both in a prime position to quality for the quarter-finals. But it was a fairly dull encounter in Port Elizabeth that lacked zip, despite both teams being highly rated.

There were only two big talking points in the first half of this 1-0 win for Ghana and both could have resulted in goals. Seydou Keita could have put Mali in front when he snuck a free-kick low around the wall and it just curled past the post.

But it took half an hour before anything else of importance happened. Even though Mali managed to keep the ball away from Kwadwo Asamoah, who was moved back into the midfield to fill Ghana's creative void, they could not create any chances of their own.

Frustration eventually spilled over when Adama Tamboura challenged Agyemang-Badu outside the box and felled him from behind. As the referee blew the whistle, Asamoah Gyan walked away. He had made a pre-tournament promise to his mother (who has since died) that he would not take any spot-kicks at this ANC and he intended to keep it.

Mubarak Wakaso stepped up instead and drove the ball to the left. Mamadou Samassa went the correct way but couldn't get down fast enough and Ghana had the lead. During the celebrations Wakaso lifted his shirt to bare another one with the words "Allah is Great," on it. He was booked.

Because of his yellow card in the first match, Wasako will now miss Ghana's final group-stage fixture against Niger. Wasako would have known that he was flirting with danger going into the match. He would also have known what raising his shirt would result in. Still, he did it.

The debate about why players must be regulated in expressing their joy is well worn. Bare chests offend some people, slogans offend others. So best they find an inoffensive way to enjoy the moment even if the previous two methods don't always rub supporters up the wrong way. Some people like seeing six-packs, some people want to get a glimpse into a player's mind even if what that mind thinks will upset them.

The problem with messages is that they could be used to raise awareness or let a loved one know the player is thinking of them. They could also contain words of hatred and because they are so well hidden, nobody knows what they will have emblazoned on them.

This one, for example, was not offensive. Even if one is of a different faith or of no faith at all, it would have done little to ruffle feathers. Surely a little bit of discernment can be used when players receive a sanction? If they reveal a message which says, "I hate these," or "I hate those," then perhaps they should be sent off. If all it reads is, "I love you mum," most will agree they can be left alone.

The shirt incident will likely get more space than the actual goal because such was the nature of the fixture. The accurate taking of the penalty was the only modicum of inspiration even though the second half was sprightlier.

Ghana took more control of the match, Asamoah Gyan found some space on occasion but Mali remained bubbling under. Again, the goalkeeping was of a high standard. Fatua Dauda dealt with crosses well, especially from a Mahamane Traore's corner, leaving Mali without their best chance of scoring. Ghana also lost their energy as the second half drew to a close when all they had to do was defend their lead.

That is exactly what they did and even though the three points do not justify what was a lifeless encounter, they are Ghana's for the keeping. Both teams have now won one match with one to play and will keep a close eye on the match between the minnows later on. DRC will fancy their chances against Niger, who are considered the whipping boys of the group and there's no doubt Claude Le Roy would have thought of something to give his boys a chance.

As it turns out, both big guns in Group B were given some breathing room after DRC and Niger drew leaving Ghana and Mali the only teams with wins.

Another draw may sounds drab but the match of the minnows was an exciting midfield battle with end-to-end action in the second half. Tresor Mputu made none of the impact he did in DRC's opener though and was substituted in that period. Niger defended well to secure their first point in ANC history. This is only their second appearance in the competition after first qualifying in 2012.